Exceptional items of £341m send firm nosediving into red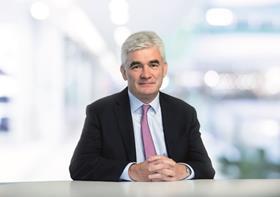 The scale of the turnaround facing new Kier chief executive Andrew Davies was laid bare this morning as the firm slumped to a thumping £245m pre-tax loss last year.
Davies (pictured) joined the contractor in April and over the summer said he was taking the axe to more than 5% of its workforce and selling a host of businesses, including its housing arm, after blaming the firm's buying spree of recent years for making the company too diverse.
In its results for the year to June, Kier said exceptional items of £341m sent the firm nosediving into the red from a £106m pre-tax profit last time.
Kier said £172m had been allocated against its up-for-sale businesses, which also include its property, FM and environmental services arms.
It added that a further £50m in exceptionals had come from contract losses with £44m of this attributed to its job to build a new hospital at Broadmoor in west London – a rise from the £25m hit it said it was taking in March – with the remainder coming from its job to build the Mersey Gateway bridge.
In addition, a further £29m of costs has come from its decision to buy civils and utilities specialist McNicholas, known as Green Macs, two years ago.
It has also been hit by £56m of restructuring costs associated with its Future Proofing Kier initiative introduced by Davies' predecessor Haydn Mursell who left the business earlier this year. This will see a further 550 staff leave by next summer on top of the 650 that have already gone this year.
In a statement accompanying its results, the firm said it had now changed the way it presented its financial statements to profit before exceptional items.
It added: "In prior years, the group has reported underlying profit. The principal reason for the change is to improve the transparency and clarity of the group's financial performance."
Davies said the sale of its housing business was "progressing well" with Building revealing earlier this week that an MBO was one of the bids being considered.
And he added that the firm was looking at freeing up cash from its extensive property portfolio and had used a "significant" amount of the £250m raised in last year's rights issue to speed up payments to its suppliers.
Its net debt at the end of the year was £167m, down from £186m last time, but average month-end net debt was £422m, up from £375m.
Group revenue during the period stayed flat at £4.5bn while underlying pre-tax profit slipped from £164m to £98m.
The firm added that its chairman Phil Cox was also stepping down after two years in the role. Kier said it had begun the search for his successor, adding that Cox will go once a replacement has been appointed.