Turnover at country's second biggest contractor stays flat but margins head north
A strong performance from Kier's construction arm helped double profit in the first half despite revenue staying the flat during the period, the firm said in interim results announced this morning.
The country's second biggest contractor said income for the six months to December 2022 was unchanged at £1.5bn.
But the firm's pre-tax profit jumped from £12.7m to £25.4m with operating profit edging up 6% to £57m. Kier said its operating margins now stood at 3.7%, above its 3.5% target.
Turnover from its construction business was up 4% to £704m but operating profit doubled to £25.6m.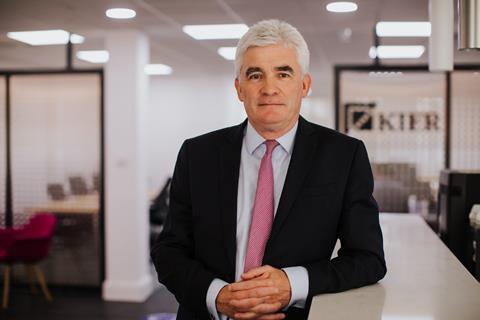 Infrastructure, which includes highways and its HS2 work, remains the biggest part of the business with revenue up 5% to £816m but operating profit fell £500,000 to £22m.
Kier repaid the remaining £50m of its KEPS supply chain finance facility last July and also cleared the final amount it owed in covid-19 support to HMRC.
As previously flagged, average month-end net debt was up to £243m from £191m, as the firm tackled historic debt items, with net debt at the half-year standing at £131m.
But chief executive Andrew Davies said: "We expect to generate positive operating cashflow for the full year and deliver a net cash position at the year-end."
In a brokers note, analysts at Numis raised the prospect of the firm paying out a dividend for the first time since Davies joined in 2019.
"Average net debt has increased as expected due to actions to pay down debt-like items KEPS and tax deferrals, leaving a cleaner base going forwards; FY24 is expected to show meaningful average net debt reduction
"The divi[dend] is expected to be reinstated once sustainable average net cash is in sight; our base case is a final FY24 divi," it added.
The firm also announced that Ross MacKenzie has been appointed interim group managing director for its infrastructure projects arm, replacing Mark Pengelly who has been appointed as interim boss of its HS2 joint venture, called EKFB, whose board Davies also chairs.
Kier's order book increased 26% to £10.1bn with the firm saying that 96% of workloads have been secured for the current financial year.