Company also draws up £4.5bn turnover and 3.5% margin targets
Kier has said it plans to resume paying a dividend as part of the next stage of its restructuring strategy which yesterday saw it turn in a pre-tax profit for the first time in three years.
The firm last paid a dividend in the first half of its 2018/2019 financial year but then new chief executive Andrew Davies, who joined in April 2019, said no dividends would be paid for 2019 and 2020 because of its perilous financial position.
After turning in a pre-tax profit of £106m for the year to June 2018, the firm sank to successive annual losses of £245m and £225m.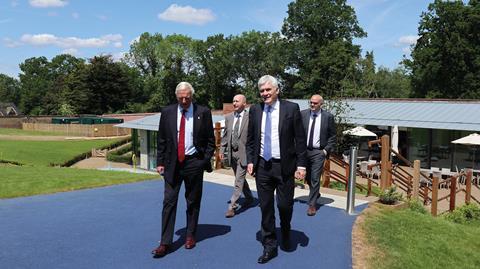 But it returned to the black in the year to June 2021 with a £5.6m pre-tax profit although the firm has again decided not to pay a dividend as it continues to repair its balance sheet.
Davies said the plan was to restore payments in the next three to five years as part of a wider move to grow margins to 3.5% and turnover to between £4bn and £4.5bn.
He added: "What has changed since 2019 is that we set out clear strategic actions and these have now been delivered."
Kier said its average month-end net debt had barely shifted from £436m to £432m – a result it added of the £350m in proceeds from the sale of Kier Living and equity raise this summer arriving in the final weeks of its financial year meaning their impact was limited – but the firm had a year-end cash position of £3m from the £310m debt at the end of June 2020.
Cenkos analyst Kevin Cammack added: "Investors will feel confident that FY21's return to profit on a statutory basis and net cash in the balance sheet mark the re-emergence of Kier as a frontline contractor looking to progress forwards not one essentially being managed for survival and the benefit of the banks. Andrew Davies, after inheriting a decidedly worse situation than originally imagined, has made massive strides over the past couple of years far beyond the headline numbers."
Kier still owes more than £18m in VAT payments deferred because of the pandemic. Davies added: "We didn't pay a dividend when we took furlough money, we took pay cuts and we didn't pay bonuses or benefits. 6,000 people took pay cuts. We did this [getting back to profit] through self-help."
The company also said it owed £6.1m from the £8.3m in advisory fees it has been charged following the £241m equity raise.
Having initially targeted annual savings of £55m when he joined the business, Davies has more than doubled these to £115m with thousands of staff leaving in the past couple of years either through redundancies or, like the 500-plus staff from its former housing arm, going as part of the disposal of non-core businesses.
Davies admitted: "We went further and harder and deeper [in the savings]. The situation was so severe [when I joined] so I'm glad we did it quickly when covid came around."
The firm has quit its environment work while its FM business, now called Kier Places which reports into the construction business, has ditched commercial work and concentrates on hard FM for government organisations and housing associations.