Contractor wrapping up work on final contract at problem Caribbean business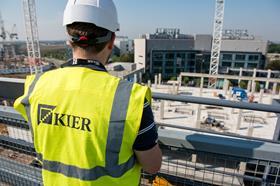 Kier has said it will see double-digit profit growth in its current financial year.
In a trading update for the period since 28 June, it said construction is delivering expected margins, boosted by the award of the maximum number of places on the Education and Funding Agency's latest £8bn four-year construction framework this month.
Kier has agreed the final account for the last mass transit railway contract in Hong Kong and is handing over the last work on its remaining project in the Caribbean.
In September, the firm said the process to settle the final accounts on the two rail contracts in the former British colony had been agreed at a cost of £26m, while it added that its final bill for getting out of the Caribbean will now be £83m – five times the original estimate.
It booked a £60m loss this year on the Caribbean business, following the £23m deficit it racked up in 2016.
In this monring's update, it said its services division has been boosted by a new seven-year highways contract worth £147m with Shropshire County Council in October, while "good progress" is also being made with the integration of the privately-owned, north London-based contractor McNicholas Construction, which it bought in July.
Kier's Scottish business has also won a £34.5m contract to develop a new elective care facility at the Golden Jubilee National Hospital in Clydebank.
This will involve building a dedicated cateract surgery unit as well as an additional orthopaedic facility. It is expecting to start on site early next year with a completion date by 2021.
Kier added that its residential work was continuing to be boosted by the government's Help to Buy initiative and that sales and pricing in housing remained strong.