Deal includes those employees working on HS2 contracts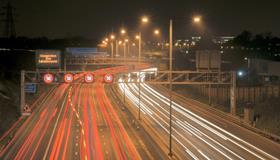 Kier has said it will take on more than 200 staff at Carillion who it had been working with in joint venture including two HS2 contracts when it went bust a week ago.
Carillion was part of a team that won a pair of deals to dig tunnels in the Chilterns for the new railway between London and Birmingham.
Called CEK, the other members were Kier and French contractor Eiffage who will now both be 50/50 partners for the work which has a pricetag of £1.3bn.
Kier said it had offered jobs to all 51 Carillion employees, including apprentices, working on the scheme.
And Kier said it has agreed a deal with Highways England to take over full responsibility for a number of smart motorways schemes it was carrying out with the bust firm.
In 2015, a joint venture between the two landed £475m worth of work upgrading parts of the M6 between Stafford and Stoke and another stretch running through Cheshire. The deal included similar work for part of the M20 in Kent as well a section of the M23 near Gatwick Airport.
Kier said the switch of motorway staff, which includes seven apprentices, would take place by the end of this week.
Its chief executive Haydn Mursell said: "We are pleased to have reached agreement with government. We have been able to take action quickly and reassure the project teams that they continue to play an important role in the delivery of these contracts."
Following Carillion's collapse, a number of MPs criticised transport secretary Chris Grayling's decision to sign off the awards given that the Carillion team won the work just a week after Carillion announced a shock £845m writedown last July.
But Grayling said the news "demonstrates the strength and purpose of the joint venture contracts".
A HS2 source told Building last week that it wasn't expecting Carillion to be replaced in the CEK team and it was confident Kier and Eiffage could manage the work between them.
On Friday, Building reported that a Facebook support group for Carillion staff has attracted almost 1,300 members in just four days.
Called Carillion Colleagues Support – Employee led, the group was created last Tuesday as a way of helping staff at the stricken contractor find work with tips for CVs and interviews as well as sharing contacts and job opportunities.