Materials firm breaks €2bn turnover barrier for first time in a first half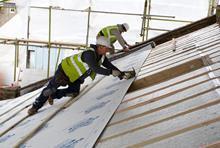 Insulation specialist Kingspan has warned the UK's Brexit negotiations could hit jobs when they come to a head next March.
The firm, which is based in Ireland, said it was "conceivable that activity in the UK could ease in the run up to the crunch point of EU negotiations".
But the company said work in the UK, which accounts for around 25% of its turnover, said workloads here were "particularly robust given the ongoing uncertainty surrounding withdrawal from the EU".
It added, however, that "project postponements have been a feature of the trading environment over the last year or so" and said: "The wider market continues to be understandably tough and we would anticipate no change in this respect until clarity emerges from the ongoing negotiations with the EU."
Chief executive Gene Murtagh said of trading in the first half of this year: "Performance was helped by improved momentum in the second quarter after a sluggish start to the year due to prolonged winter weather conditions."
In the six months to June, Kingspan saw revenue jump 15% to just over €2bn (£1.8bn), a record, with pre-tax profit up 9% to €177.6m (£160m).