Materials firm says confidence in UK market is flatlining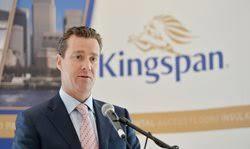 Insulation specialist Kingspan has said its UK market got progressively weaker last year with the firm admitting it has no idea when confidence will recover.
The firm, which is based in Ireland, put the blame squarely on the head of Brexit and said confidence in the UK this year is likely to get worse.
In a note accompanying its largest business, insulated panels, the firm said: "The year started well for Insulated Panels in the UK and then tapered off considerably towards year-end as a decreasing number of large scale non-residential projects came to the market."
It added it expects its UK business, which accounts for 25% of its overall turnover, making it its biggest single market by country, to be facing "a more difficult phase with general confidence ebbing, and inward investment waning as the government wades its way through its Brexit quagmire. Once certainty is restored, whenever that may be, demand should recover."
Chief executive Gene Murtagh (pictured) admitted the UK market was "weakening" and Kingspan said its insulated panels business in the country was experiencing a tough start to 2018 where demand for product was down 15% on a year ago because of fewer low-rise non-residential jobs.
But problems in the UK failed to take the gloss off an improved performance last year at the business which supplies insulated panels, insulation boards and access floors to thousands of sites up and down the country.
Revenue at the firm in 2017 was up 18% to €3.7bn (£3.3bn) while pre-tax profit was up 10% to €346.5m (£306m).