Balls claims Labour in power will not be handing out £50bn 'blank cheque' for high speed rail project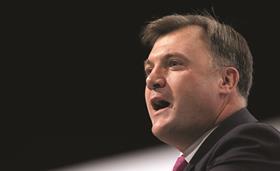 Labour has cast doubt over its commitment to the high-speed rail line to the north of England after Ed Balls questioned if the £50bn budget could be better spent on other priorities.
The move was interpreted in some quarters as paving the way for Labour to withdraw support for the project, which was originally developed by the previous Labour government and has enjoyed cross-party backing.
In his speech Balls said there would "be no blank cheque" for HS2, adding: "The question is not just whether a new high-speed line is a good idea or a bad idea, but whether it is the best way to spend £50bn for the future of our country."
Shadow ministers were quick to deny there had been a change of position, saying it was critical that the government bear down on the spiralling costs of the project. Earlier this year the government revised the cost of HS2 from £33bn to £43bn, with a further £7.5bn for the cost of the rolling stock, while a leaked Treasury memo suggested the cost could rise to over £70bn.
Balls' warning also followed increasingly sceptical public statements by other senior Labour figures previously in favour of HS2, including Lord Mandelson, a former business secretary, and Alistair Darling, who approved the project while he was chancellor.
Labour's harder line on HS2 came as Balls committed the party to establish an independent Infrastructure Commission designed to take the politics out of major infrastructure planning, as recommended by Sir John Armitt, the former chair of the Olympic Delivery Authority, in a report commissioned by Labour and published earlier this month.
Armitt welcomed Labour's commitment to set up the commission, but said he would be "very disappointed" if Labour withdrew its support for HS2.He said: "It's a very large project. It requires a political consensus, frankly, to be delivered.
"I think what Ed Balls was doing […] was simply setting out his credentials as a future chancellor."