Andy Slaughter is due to give a second reading of his Freedom of Information (Extension) Bill today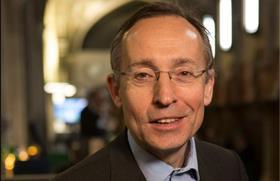 Contractors carrying out public works would be made subject to freedom of information requests under a private members' bill going before parliament for the second time today.
Labour MP Andy Slaughter (pictured) is due to give a second reading of his Freedom of Information (Extension) Bill on Friday, which would bring all information held by a public service contractor about the contract's actual or planned performance under the remit of freedom of information requests.
The bill, which had its first reading in July last year, is backed by the Campaign for Freedom of Information.
The proposal to extend Freedom of Information powers would place firms that supply government, like Carillion and Interserve, under greater public scrutiny.
Writing in parliamentary magazine The House, Slaughter said: "The devastating collapse of Carillion has highlighted how dependent we have become on contractors for public services.
"Over £250bn, a third of public spending, now goes to commercial or voluntary sector bodies for services. Some of these contracts have proved highly controversial.
"Contractors claim that openness threatens their edge over their rivals. Public authorities say it jeopardises their efforts to get the best deal when a new contract comes up. But ultimately such claims have to be substantiated under the Freedom of Information Act."
The member for Hammersmith said the Freedom of Information Act was integral to ensure accountability, saying his bill "would help it keep pace with the way public services are actually being delivered".
Slaughter said the new laws would also apply to housing associations, including the company that managed Grenfell Tower, saying tenants have a right to know details of issues that have arisen with their homes.
Slaughter's fellow Labour MP Louise Haigh is also slated to give a second reading of her Freedom of Information (Amendment) Bill, "to make provision for the disclosure of information held by public authorities or by persons contracted to provide services for them or on their behalf; to amend the Freedom of Information Act 2000; and for connected purposes".
Slaughter's bill is second in line to be read this afternoon.