Shadow transport secretary tells Labour party conference issue will not be "kicked into the long grass"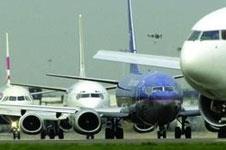 Labour has pledged to make a "swift decision" on the expansion of airport capacity if it is elected to government.
Speaking yesterday at the Labour Party conference in Manchester, shadow transport secretary Mary Creagh hit out at the government for delaying a decision on airport capacity by setting up the Davies Commission, which is now examining the issue.Creagh said: "More airport capacity is vital to Britain's economic success, but David Cameron was too weak to deliver it. So he kicked it into the long grass.
"The next Labour government will make a swift decision on airport expansion in the national interest."
Creagh's comments followed those of shadow chancellor Ed Balls, who said in his speech on Monday that Labour would act on expanding airport capacity.
He said: "Whatever the outcome of the Howard Davies review into airport capacity, we must resolve to finally make a decision on airport capacity in London and the South East - expanding capacity while taking into account the environmental impact.
"No more kicking into the long-grass, but taking the right decisions for Britain's long-term future."