Four-year work programme will more than double the airport's capacity
Laing O'Rourke has formally signed the contract to revamp Terminal 2 at Manchester Airport, as part of the airport's £1bn expansion plans.
The contractor was appointed preferred bidder in July 2016 by Manchester Airports Group (MAG) and has been carrying out advanced and enabling works in preparation for the award of the main contract.
Laing O'Rourke's four-year contract covers the majority of the work programme and involves the design and construction of an extension to the existing Terminal 2 building, more than doubling its current size.
The work includes two new security halls, a new international departure lounge and new business lounges, new baggage handling facilities and new airside piers.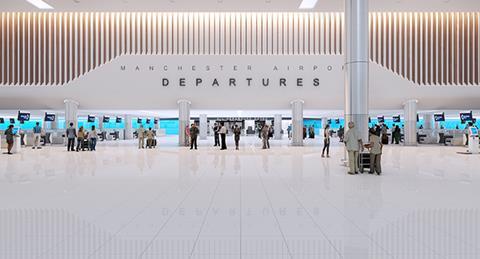 Laing O'Rourke will also build a new 3,800 space multi-storey car parks with direct links to the terminal building, a new access ramp linking the exit of the M56 onto an upgraded and extended forecourt around T2, and carry out a reconfiguration of access roads in and around the new terminal.
At peak, the project will employ some 1,500 people and Laing O'Rourke has committed to creating 150 apprenticeships at the scheme.
When complete, the airport will be able to handle 45 million passengers a year, an increase of almost 20 million compared to today.
Liam Cummins, head of UK building at Laing O'Rourke, said: "We will be required to work sensitively in a live, high-intensity environment, drawing on our engineering expertise as well as our ability to deliver complex and challenging programmes.
"Laing O'Rourke combines its local knowledge of Manchester where we have recently delivered the extension to Manchester Metrolink, Two St Peter's Square, the expansion of the Etihad Stadium and the transformation of the Manchester Town Hall Extension and Central Library, with experience of delivering major, complex projects in the aviation sector including Heathrow's Terminals 2A and 5."