Firm part of team that includes architect Ian Simpson behind proposed £300m revamp of city's Great Northern Warehouses
Laing O'Rourke is hoping to land work on a prized scheme in Manchester after revised plans to revamp a listed warehouse in the city were sent in to planners just before Christmas.
The firm, which earlier this week said it was hoping to finally draw a line under huge losses it has racked up on a PFI hospital scheme in Canada, has drawn up an outline construction management plan for Trilogy Real Estate and Peterson Group for the work at the grade II* listed Great Northern Warehouse, which is expected to cost £300m and take 10 years to complete.
Consultants on the job include Will Alsop's firm All Design as masterplanner while local architect, Simpson Haugh, the practice of Ian Simpson who designed the city's tallest tower, the Beetham Tower completed by Carillion 11 years ago, is carrying out design work.
Parts of the previous plan had to be redrawn following a public consultation last summer with work now expected to be carried out in two phases
The first would see an amphitheatre covered with lawns and trees and include close to 150 apartments while the second would see a further 130 apartments built in space currently used as parking at the building and the creation of a new street called Dean Street. A gym along with retail and cafes are included in this phase.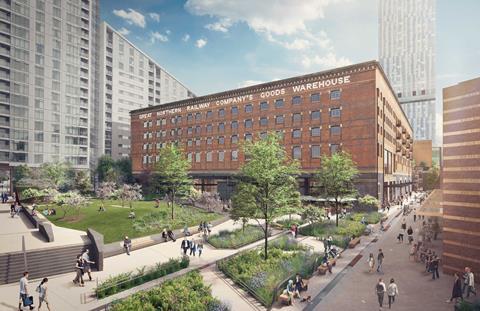 An existing casino at the warehouse's first floor will also be retained as part of the plans, with the new gym and restaurant uses proposed for vacant areas of the south end of the building
The site was bought by the pair, known in the application as GNW Developments, back in 2013 and in planning documents submitted to city planners, GNW said: "The key focus is to pursue a conservation-led strategy to regenerate the site so that it fulfils its potential as a cultural, business and residential destination whilst being respectful to the historical significance of the site.
"The Great Northern does not currently perform to its full potential and is underutilised in relation to much of its floorspace and surrounding public realm."
Existing concrete floors in the central section of the warehouse will be cut away to create a full height central atrium cover with a glass roof.
Public space will be increased by over 25%, from around 6,200sq m to 7,850sq m.
The warehouse was built back in the 1890s by the Great Northern Railway and used as a railway goods yard. It was given its current listing in 1974.