Group's largest division narrows deficit but still racks up £81m pre-tax loss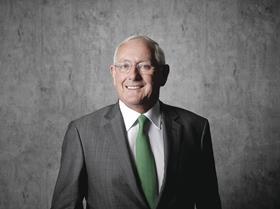 The largest division at Laing O'Rourke stayed in the red last year but narrowed pre-tax losses more than threefold.
The country's biggest private builder said earlier this month the group had cut overall losses from £246m in 2016 to £67m the following year.
The divisional performances of the £3.2bn business are now emerging and the results for the largest division, Laing O'Rourke plc, show that pre-tax losses fell from £267m to £81m in the 12 months to March 2017.
Revenue during the period increased from £1.6bn to just over £2bn.
Laing O'Rourke plc covers its operations in Europe, Canada and Abu Dhabi and includes over 100 subsidiaries including plant hire firm Select as well as shares in PFI hospital schemes including Liverpool children's hospital Alder Hey.
It is the third straight year the firm has sunk into the red and last year's loss means accumulated losses over the past three years at the business have topped £400m (see box).
The firm said the bulk of this latest loss was connected to continuing problems with a PFI hospital contract in Montreal, Canada, although an ongoing restructuring initiative cost it a further £11.6m on top of the £23.1m it shelled out in 2016.
In a note accompanying the accounts, the firm said the restructuring increased "the focus on creating a simple management team" for its contracting, manufacturing, logistics and plant businesses.
It said more restructuring was on the way and added: "We will continue further consolidation of our regional offices into our headquarters at Dartford, Manchester and Explore Industrial Park [its Design for Manufacture and Assembly plant near Worksop]."
The number of people employed by the firm dropped by just over 100 to 8,539, which accounts for more than half of the group's 15,273 staff.
Two weeks ago, in its results for the group, Laing O'Rourke said underlying profit returned to the black, turning an £82m loss in 2016 into a £35m profit 12 months later. Chief executive Ray O'Rourke (pictured) added that it expects to make a pre-tax profit in 2018 when its current financial year closes at the end of this month
Laing O'Rourke plc is a member of Laing O'Rourke Corporation which operates out of Cyprus.
The firm, which has extended the date on its refinancing deal by six months to the end of next April, said it plans to move the tax status of the group from Cyprus to Jersey during this year.
How Laing O'Rourke plc has fared in last 10 years
| | | |
| --- | --- | --- |
| Year | Turnover | Pre-tax profit (loss) |
| 2017 | £2bn | (£80.8m) |
| 2016 | £1.6bn | (£267.2m) |
| 2015 | £1.58bn | (£82.2m) |
| 2014 | £1.86bn | £10.4m |
| 2013 | £1.8bn | £21.5m |
| 2012 | £1.9bn | £27.4m |
| 2011 | £1.85bn | £28.6m |
| 2010 | £2.3bn | £34.3m |
| 2009 | £2.5bn | £29.5m |
| 2008 | £2.4bn | £39.5m |
Source: Laing O'Rourke plc accounts