Key shareholder says Steve Rawlings will not be parachuted into the top job after Stuart Black's resignation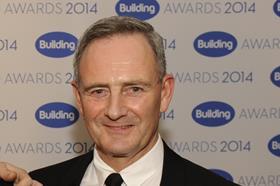 The boss of the fund manager behind the campaign to shake up the boardroom at Lakehouse has told Building the contractor's founder Steve Rawlings will not be parachuted into the top job after the firm's chief executive quit yesterday.
Stuart Black resigned after eight years at the business following the return of Rawlings (pictured) to the board earlier this week.
Rawlings, who had been campaigning to rejoin the board, had been critical of Black and other management, saying earlier this month: "I know the people in that company and they are calling me every week and I think the wrong people are in place."
But Mark Slater from Slater Investments said Rawlings would not be replacing Black.
He said: "He's made it very clear throughout this process that he doesn't want to have any role apart from that of non-executive director. I think he can be helpful to the business in various ways but he won't be the chief executive."
Black had been critical of Rawlings and Slater – who between them own more than 20% of the business – as the boardroom row intensified ahead of a planned special meeting that was due to discuss Rawlings' plans on Tuesday.
Speaking about Black's decision to go, Slater said: "It's not a surprise to us that he's resigned as just before the [meeting] he told us quite clearly that if we were successful he would resign."
Rawlings rejoined the Lakehouse board on Monday as a non-executive. The shake-up of the board has also claimed the scalp of former chairman Chris Geoghegan. He has been replaced by former Atkins finance director Ric Piper.
Piper and Robert Legget - managing director of fund group Progressive Value Management and now also senior independent director of Lakehouse – have been brought in by Rawlings, who explained to Building that he wanted to "bring a couple of guys with me who I have got confidence in". He added that he wanted to have people who "know about managing plcs". He had demanded Geoghegan and two others leave.
Rawlings and Slater began a shareholder revolt last month following a February profit warning from Lakehouse that prompted a steep drop in the value of its shares.
Black's profile has already been removed from the firm's website. He had stepped into the chief executive's post after Sean Birrane left the role last month.
In a statement released to the Stock Exchange, Lakehouse said: "The Company announces that Stuart Black has resigned as chief executive officer. In line with his contractual obligations, he has provided six months' notice, commencing today. The Board looks forward to working with Stuart to effect an orderly handover of his responsibilities."