Lend Lease lined up to build scheme in London's Victoria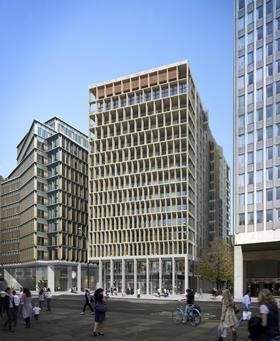 Land Securities has given the go-ahead to the £350m Kingsgate House scheme in London's Victoria, with construction set to begin next month.
As Building revealed last month, contractor Lend Lease has been lined up to build the Lynch Architects-designed scheme at 66-74 Victoria Street, which is part of Land Securities' 2 million ft square redevelopment of the area.
The scheme involves the demolition of the existing office block and its replacement with two buildings - one commercial and the other residential.
Land Securities said it had given the go-ahead to the development after changes to the Community Infrastructure Levy (CIL) regulations made the scheme more viable.
Lend Lease has been selected as a preferred bidder for the job after beating off competition from Mace and Sir Robert McAlpine.
The Kingsgate House project received planning permission from Westminster council in November 2011. It will provide 203,000ft2 of Grade A office space and 102 residential apartments as well as public space bordered by shops and restaurants.
Demolition of the existing building began earlier this year, but Land Securities had yet to set a date to begin construction, only committing to complete the substructure - including a large basement connecting the two buildings - and to build to ground level.
It was understood that the developer has concerns about the viability of the project in the current market, particularly the office scheme.
But now, following the CIL changes, the decision has been made to go ahead with the development.
Robert Noel, chief Executive of Land Securities said: "It is heartening to know that the government has listened to the industry and acted to remove some of the uncertainty in the planning process. It enables us to progress with developing the former Kingsgate House site and continue to transform Victoria into a distinct and vibrant West End hub where people choose to live, work and visit.
"Our experience with our current developments demonstrates that Victoria is proving attractive to potential occupiers. This project will further add to its appeal."