Developer mulls Timber Square decision as it assesses impact of pandemic on demand for space in capital
Laing O'Rourke is facing an anxious wait on whether a £195m office-led scheme in Southwark it won last year goes ahead after developer Landsec said the covid-19 pandemic had put question marks over the job.
Timber Square was given the green light by local planners last December and involves turning a 1950s printworks into 350,000 sq ft of grade A offices, affordable workspace, roof terraces and new public realm.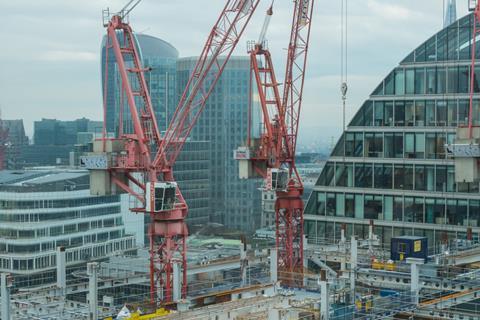 O'Rourke, which beat Mace to the job, has signed a pre-construction services agreement with the firm saying much of the scheme at 25 Lavington Street, close to the Tate Modern, will be manufactured offsite at its Explore factory in the East Midlands.
But in its annual results released this morning, Landsec admitted it had still not made up its mind about whether to press on with the job because of the impact of the pandemic on the demand for office and retail space.
It said: "Demolition of the existing building is due to commence by the end of May 2021 with a decision on development to be taken by the autumn. The earliest PC date is February 2024 and we will assess the expected demand levels and rental tone before committing to the scheme."
It added that plans, drawn up by Gensler, to refurbish a 1960s office block called Portland House in London's Victoria were also up in the air.
Strip-out work on the block, which has been empty since last March, continued last month with the entire scheme, which also includes adding a 14-storey block to the side of the existing 29-storey building, not expected to finish until September 2024.
But Landsec said: "We are currently assessing the potential timing of the scheme and are likely to pause to manage development exposure."
It said it was still trying to work out the effects of the pandemic on demand for office and retail space in the coming years and admitted: "The long-term impact of the pandemic on central London is not yet clear but it won't be uniform.
"We are likely to see some bifurcation of demand as quality of space and sustainability credentials become significant factors for customers. Some sectors, such as banking and professional services, may reduce their floorspace. Others, such as tech, are not necessarily changing footprint size but are focused on quality of space and employee choice. We will work closely with our occupiers to understand and deliver their needs and the scale that is required."
Landsec also said practical completion of Sir Robert McAlpine's scheme to build a new office block at 21 Moorfields in the City had slipped again because of the impact of productivity on the site.
The job was originally due to finish next March but was first pushed back to June and has now slipped another four weeks.
The developer said: "McAlpine doubled the facilities space for construction workers in order to accommodate more people on site in a covid-secure way. Weekend working was also introduced to mitigate some of the delays resulting from lower on-site capacity. However, as a result of the lower on-site capacity we now expect practical completion to be delayed to July 2022."
It added that it was pressing on with an office and retail scheme called the Forge, also close to the Tate Modern, which the firm said would be its first net-zero carbon building, a mixed-use scheme called Lucent in Piccadilly, being built by Wates, and the next phase of its Nova office scheme in Victoria called n2 where Mace is the main contractor.
Landsec said revenue in the year to March was down 40% to £251m with its pre-tax losses widening to £1.4bn from £837m.