Greg Clark said Insolvency Service would consider whether payments should have gone to the supply chain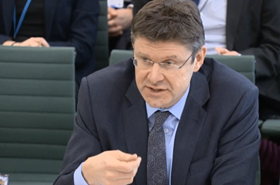 Business secretary Greg Clark has told MPs running the inquiry into Carillion's collapse there will be an investigation into the payments lavished on the stricken contractor's advisers in its dying days.
Clark (pictured) told MPs from the business and work and pensions committees that the multi-million pound fees paid out in the days leading would be scrutinised by the Insolvency Service.
Clark said: "Any small business that has lost money and sees a much bigger company being paid money I think is right to feel anger about that.
"The Insolvency Service is looking at payments that were made before the company went into insolvency and I expect they will look at that aspect in particular."
Questioning Clark, business committee chair Rachel Reeves said: "It just can't be right that companies pay a big company on time but the small companies [who] have been waiting much much longer, and in my opinion are much more deserving of the money, don't get paid."
The committees previously revealed the stricken contractor paid advisors £6.4m in the days leading up to its collapse as it desperately sought £10m in government aid.
Responding to questions about Carillion's much-maligned payment practices, Clark said there was an obviously a need for "urgent" action when it came to late payments.
Carillion, who was a signatory to the Prompt Payment Code, was widely known for poor payment practices, with the company's former finance director Emma Mercer conceding 5% of suppliers were paid after 120 days.
Clark said: "It's obvious that those payment terms were too long. This is a priority it needs to be urgent and we are getting on with it."
He said the fact companies were being forced to report on their payment policy and practice would improve payment standards.
Asked whether his department, which held two contracts with Carillion, paid within the timeframe it sought from the private sector, Clark confirmed BEIS paid 99.3% of invoices within five days and 99.9% within 30 days. He told the inquiry he would supply them with the same information from other departments in writing.