Firm stays in black but sets aside over £7m to deal with jobs signed in the recession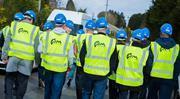 North Midland Construction's 2017 numbers were blunted by legacy contracts, including an ongoing row over a residential scheme in Lincolnshire, with the firm having to set aside £7m to deal with the problems.
The Nottinghamshire-based firm said it plans to appeal a decision by the High Court last autumn following its work for Cyden Homes to build a large residential house and outbuildings called South Farm.
The contract for the late-running job included liquidated damages of £5,000 per week in respect of delay with North Midland applying for an extension of time. But the judge disagreed and refused to grant North Midland the declaration it was after.
North Midland said it had made a provision of £7.3m for legacy construction contracts – which it defined as being signed before the end of 2013 "at the height of the recession" – with the bulk earmarked for the housing job.
Underlying pre-tax profit jumped from £5.9m to £8.3m in 2017 but this slumped to just over £1m for pre-tax profit, down from the £2m it posted in 2016.
Chief Executive John Homer said: "It is disappointing that focus on a healthy underlying group performance from our continuing operations appears to continue to be diverted by the outcome on the remaining legacy contract."
Revenue at the business was up 16.5% to £292m with operating margins at its £33m turnover construction business inching up to 4.48% from 4.22% - although this excludes the impact of its legacy contracts.
North Midland also carries out work in the power, telecoms and highways sectors. Its biggest business is its £168m water division.
Earlier this year, it said it was owed money by Carillion for its work with Carillion Telent, the joint venture company carrying out upgrades to Britain's internet infrastructure for Openreach, the infrastructure arm of BT. But it gave no update on progress over the issue in its 2017 results.