UK would need eight times more heat pump installers than currently exist to hit government targets
The number of qualified heat pump installers in the UK is less than half of what the government has previously claimed, according to a new report by consultant EY.
The Department for Business, Energy and Industrial Strategy (BEIS) told members of the domestic heating industry last month that there are around 3,000 to 4,000 heat pump installers in the UK.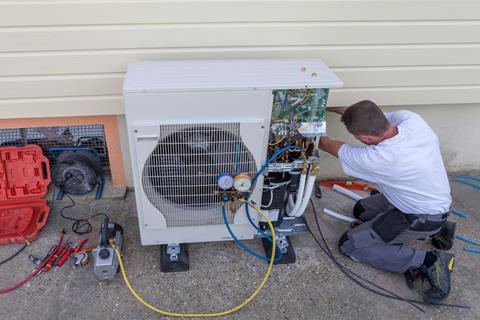 But in a report published by the Independent Networks Association (INA), EY said there were just 1,200 installers qualified to fit heat pumps into UK homes.
The green heating systems, which work by absorbing heat from the environment, are a core part of the government's plans to make homes more energy efficient to help it achieve net zero carbon emissions by 2050.
As part of the future home standard, traditional gas boilers will be banned from all new homes from 2025 and replaced by green alternatives, such as heat pumps or hydrogen systems.
EY said there would need to be almost 10,000 qualified heat pump installers in the UK within the next four years – eight times more than the number which currently exist – to meet the government's target of having 300,000 of the devices installed in homes each year by 2025.
The report also said that officials have not given the industry enough time to prepare for the implementation of the new rules, with policies over the future of heating homes not set to be finalised until 2024, less than a year before it is due to come into force.
And the findings of a consultation on the proposed changes, which would also include required technical specifications on insulation and glazing, are not expected to be published until 2023, long after the industry would need to start planning for the changes, the report found.
INA executive director Nicola Pitts said that the body's members had already seen the uncertainty impacting the speed of delivering new housing projects.
"Practical delivery of the Future Homes Standard will rely on a clear planning framework, timely and 'right sized' utility connections, a developed low carbon heating system supply chain and sufficient numbers of skilled fitters.
"We need a clear, workable cross-government plan that brings these strands together in a coordinated way.
"The government needs to commit to delivering certainty at the right time for industry to deliver to the 2025 date."
She added she was "particularly concerned" that no public awareness campaign had taken place to inform consumers about heat pumps, warning that there could be a lack of demand for the first homes built under the future homes standard.
In an industry event in May, BEIS admitted that there were major challenges to persuading homeowners to install heat pumps, which can cost up to £35,000 each, can emit noise which breaches legal limits and could increase fuel bills.
It admitted that installation, which could take up to several weeks, can cause significant disruption and that many homes will not have enough space for the kit, which includes either an outdoor unit or ground array, added piping, a control unit, a hot water tank and a buffer tank.