Just 32% of respondents in Building's annual BIM survey say they are using BIM Level 2 ahead of April 2016 deadline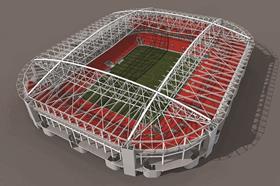 Less than one-third of construction firms are using BIM Level 2 with just five months until the government's BIM mandate kicks in, according to Building's latest annual BIM survey.
Just 32% of firms surveyed by Building said they were using BIM Level 2, ahead of the government's 4 April 2016 deadline, when all central government departments will require project teams to use it.
The 32% result compares to 31% in last year's survey.
However, there was better news elsewhere in the survey, with more firms using BIM and a greater number saying they were convinced of its benefits.
The proportion of people who had used any form of BIM on projects lifted to 66%, up from 52% last year, while respondents were less inclined to say the benefits of BIM were over-hyped.
Last year more respondents said they thought it was over-hyped than those that didn't, whereas this year only 33% said BIM was over-hyped, and 52% said it wasn't.
Building surveyed 190 people across a number of disciplines – including consultants, architects, engineers, contractors and clients.
David Philp, head of BIM for Aecom and head of implementation for the government's BIM task group, said he believed there will be "sufficient capacity in the market" to meet the government's BIM mandate in April.
Terry Stocks, a director at Faithful + Gould, who is also the government's delivery director for BIM Level 2, agreed: "All the departments have got a desire to make BIM Level 2 work. Where we are now is incredible, really. Over the past three years we have made such massive leaps forward."
Philp added that Aecom's other businesses around the world are starting to draw lessons from the UK's use of BIM, including its Russia business, which designed Spartak Moscow's new stadium – the Otkrytiye Arena (pictured) – using BIM, which opened in the city last year.
Philp said: "We work concurrently. BIM allows us to follow the sun in terms of our design work – you can pass a design through nine offices around the world."