First tenants now starting fit-out work
The developer behind the City's tallest tower has said it will finally be finished next April nearly 13 years after demolition of the original site began.
Sir Stuart Lipton from Lipton Rogers told Building the 278m tall building will be officially completed next spring in time for a summer opening.
The scheme has been hit by a series of delays with Lipton telling Building the weather has played havoc with its timetable: "Wind is not [a] huge [issue], it is the issue."
The first tenants are starting work to fit out their spaces with US data analytics firm Verisk, which has taken floor 27, US law firm Cooley, which has floors 22 to 24, and US stock exchange Nasdaq, which has floor 18, all getting going.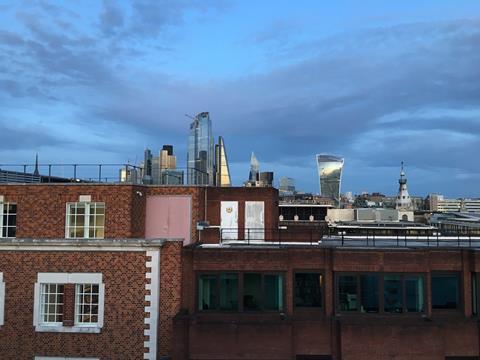 Apple, which has signed up to move staff into the Battersea power station redevelopment, is also rumoured to be looking at space. "Wait and see," Lipton said when asked if the tech giant was also looking at 22 Bishopsgate.
Each floor can hold 250 people and Lipton revealed one firm, which he declined to name, was looking at five floors.
Other tenants to have taken space include insurers Beazely, Axa, which is helping fund the scheme, and Hiscox.
Lipton added: "Over half of it is let and by the time it is finished, 75% of it will be let." The amount of lettable space at the tower is 1,325,000 sq ft across 56 floors.
Around 850 people are still on site with the job, which is being built by Multiplex, running 24 hours a day, seven days a week.
Lipton said the main parts of the building left to be finished were the plant rooms at the top and the lobby areas.
The building will also have a 20,000 sq ft food market on the second floor run by restaurant group Rhubarb, a climbing wall and 1,700 bike spaces.
Demolition work at the 22 Bishopsgate site began in 2006 and a year later Multiplex signed a deal to build the Pinnacle tower by KPF at the cleared plot. But the scheme was later stalled and redrawn by PLP to become the renamed 22 Bishopsgate.
Lipton, who turned 77 earlier this month, said Lipton Rogers, which he runs with partner Peter Rogers, was on the lookout for more sites for the pair's next project to develop. "It would be in the Square Mile. That's our patch."
He added that he wanted to build an office whch would include a huge cafe on the ground floor and a 500 seat auditorium that can double up as exhibition space.