Scheme, which had original price tag of £335m, will be completed by Laing O'Rourke
The NHS trust responsible for completing the Liverpool hospital left half-built by Carillion's collapse has revealed the amount of cash it will have been forced to spend on the project in its current financial year.
Board papers published ahead of this week's meeting of the Liverpool University Hospitals NHS trust said up to £131m was expected to be spent on the hospital in the year to April 2020.
The original value of Carillion's contract was £335m with the hospital previously due to open in 2017.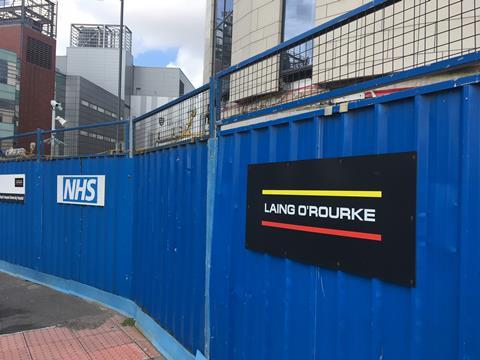 While replacement contractor Laing O'Rourke has been active on site, the final business case, which will allow the firm to sign the main contract with the trust, is yet to be signed off by the health department.
The papers said as soon as the business case was finalised it would be sent to the board for approval.
The papers also revealed a plan to sort out the cladding on the hospital, which a review from Arup last year revealed did not meet building regulations, had yet to be confirmed.
It said: "The solution for the external cladding is still being worked through with specialist advisors.
"There are significant challenges in ensuring that the existing cladding system can be fixed to meet compliance and the options being looked at have varying impact on the timescale and costs."
Trust chief executive Steve Warburton said that when a solution was confirmed it would know the full cost of the work to finish the job off and when it would be completed.
Cladding concerns are not the only issues facing the project, with cracks in the structural beams and issues with the vents in the operating theatres also among the problems that need dealing with.
The papers said Arup, which was contracted to do a structural review of the project, was providing "robust oversight" of the remediation works.