Bath-based firm Emery to repair and improve historic Abbey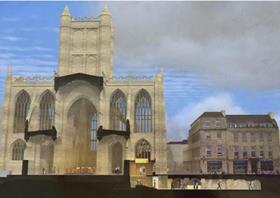 Bath Abbey has appointed local firm Emery to carry out building work for its £19.3m renovation and restoration project.
Emery will be supported by two other Bath-based firms, Wheeler's, who will carry out the M&E work, and SSH Conservation will carry out stonework.
Works, which will take place both inside and outside the Abbey, are due to start at the end of May.
Supported by the Heritage Lottery Fund, the programme of works, which has been dubbed the Footprint Project, will see the Abbey's collapsing floor repaired, a heating system using Bath's hot springs installed, and provide both new and improved spaces and facilities.
Charles Curnock, Bath Abbey's Footprint Project director, said: "While we received a high calibre of tenders from all across Europe, we are very pleased to be working with companies who are based in the South West."
Wessex Water will be digging and laying pipes that will carry hot water from the Roman Baths to the new heating system.
Wessex Archaeology from Salisbury will work alongside the building contractors to document and interpret any objects that may be uncovered by the excavation.