Contractor Mace begins full testing on £50m project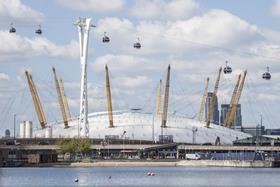 London's cable car project in the east end of the city may not open before the Olympics.
Design-and-build contractor Mace began full testing of the £50m project yesterday, with all 34 cabins making the round trip over the Thames between the O2 and Excel centres.
However, Transport for London is unable to confirm whether or not the river crossing will be open in time for the Games and instead reiterated its commitment to a "summer deadline".
TfL's position suggests the cable cars could open in August, after the Olympic opening ceremony on 27 July.
A spokesperson for the project told the BBC: "We'll be open this summer, whether it's before the Olympics or not is something that we're working on.Clearly we have plans if it is but at this moment in time we're not planning for it to be open."
The cable car project was not part of the Olympic transport plan, but both the O2 and Excel centres are staging several Olympic events.
The O2 is staging gymnastics, trampoline and basketball events while the Excel will host boxing, fencing, judo, table tennis, taekwondo, wrestling and weightlifting contests.
Trips to the other side of the Thames will last about five minutes. It will be capable of carrying 2,500 people every hour in each direction.