Tragedy killed one woman and injured four others
The owner of the tower crane which collapsed in east London earlier this week killing one woman has said it was only erected the day before the incident.
The crane fell on to two terraced houses in Bow on Wednesday afternoon while work was being carried out on a new apartments scheme at nearby Watts Grove.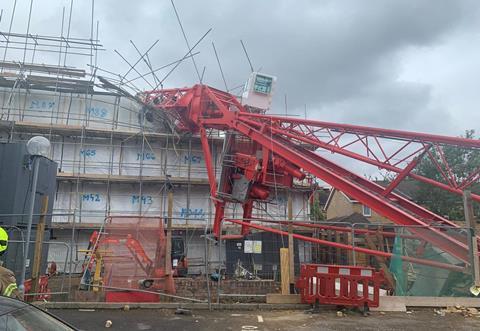 The collapse killed an 85-year-old woman, named as June Harvey, and injured four others – including two from crane owner Wolffkran one of whom is seriously injured.
In a statement, Wolffkran, which is headquartered in Switzerland, and has its main UK base off the M1 at Sheffield, said: "According to the authorities, a resident of the adjacent houses that were struck by the jib of the crane died. Four other people were injured, two of whom are Wolffkran employees.
"The affected crane is a Wolff luffing jib crane of type Wolff 355 B, which is one of Wolffkran's most tried and tested cranes, reliable in operation worldwide, and currently in operation on 18 sites across the UK. The crane on the construction site in Bow was only 10 years old and was fully erected on a 22 meter tower the day before the incident."
The firm added: "Management and staff are deeply upset by this tragedy and express their heartfelt condolences to the family of the woman that died in the incident. Our thoughts are with all those affected."
The 62-flats scheme is being developed by Swan Housing Association and its in-house contracting arm NU living.
An investigation has been launched involving the police, the Health and Safety Executive and the London Fire Brigade.
In a statement, Swan promised Mrs Harvey's family that it "will fully support the Health and Safety Executive and the authorities in their investigation so that you can receive a full, transparent answer to how this incident took place".