Great Portland Estates' James Pellatt promoted and his role as head of projects now taken by Helen Hare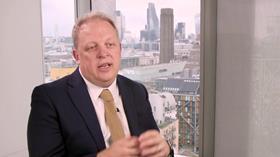 London developer Great Portland Estates (GPE) has rejigged its management team which will see the firm's head of projects James Pellatt promoted to a director position.
Pellatt (pictured), who has headed up its project management team since 2011 after joining the firm from Tishman Speyer where he was a senior director, will now be responsible for workplace design and innovation at the firm.
He is replaced as head of projects by Helen Hare who has worked on several major projects for the firm, including 12/14 New Fetter Lane, Rathbone Square and 33 Margaret St.
GPE investment manager Hugh Morgan, head of corporate finance Martin Leighton and the firm's head of financial reporting and investor relations Stephen Burrows have all been made directors, while the developer's head of analysis Kirsty Davie has been made head of investment analysis and management information
There is no change to the make-up of the board or the executive committee, chief executive Toby Courtauld said.
GPE is due to start on a number of new schemes early in the new year including an office and residential designed by Lifschutz Davidson Sandilands and set to be built by Mace.