Firms with small profit margins and low reserves are most vulnerable
A lockdown in London would be a disaster for the industry and could put both large and smaller firms out of business, senior construction figures warned today.
Firms should therefore make contingency plans for the prospect of transport networks closing and travel to and from the city being restricted.
Even though the government said this morning that there was "zero prospect" of an imminent travel lockdown in the capital, some key figures are not convinced.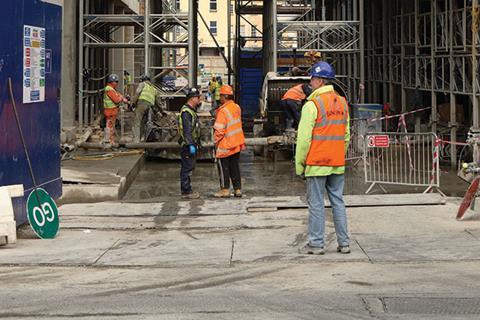 London accounted for one-fifth of all construction output in the UK last year and almost 22% of new work. Economists predict that a lockdown in the capital would have a disastrous impact on the industry right across the country.
"We are an industry which is reliant on being on site," Alasdair Reisner, head of strategy at the Civil Engineering Contractors Association said. "A lockdown is a major concern."
Simon Rawlinson, head of strategy at Arcadis, told Building: "There's a greater chance now that [a lockdown] could happen than a week ago."
Warning that the £350bn lifeline offered by the government on Tuesday would not meet many of the industry's needs in such a scenario, Rawlinson said: "We are looking for extraordinary measures by the government to support the construction sector. We need to be able to pay our people and our bills."
He said large firms might not be viable if a lockdown forces work at sites to stop, while some smaller businesses may need cash now.
"Cash is the key point," he added. "Businesses won't take loans because they would just be putting off the point when they go under."
Asked what type of firms would be most vulnerable, Reisner pointed to businesses with "existing challenges" such as small profit margins and low reserves.
"What firms can do is look at other countries which are ahead of the curve and see what happens," he added. 'They can use that information as a basis on which to plan contingencies."
One major contractor added: "We are underway with preparations that sites might shut. We are doing what everyone is doing. Reviewing the financial and contractual sitaution in detail and talking to clients every day."
Noble Francis, economics director at the Construction Products Association (CPA), said: "If sites do get shut down, then the number and size of those sites will determine the impact on the industry.
"Clearly, construction activity occurs on site and you can't have working from home, apart from senior management. So shutting sites en masse would have a major impact, not only on the contractors on the site but also on the materials and product manufacturers as well as the architects, consultants and surveyors.
"All together this accounts for three million people."
Francis said that, within the on-site contracting part of the industry, 86% of employment is within SMEs and 41% is self-employed. So a significant downturn would hit them the hardest given that they rely on cash flow and lending if the downturn gets worse.
Downing Street this morning denied reports circulating yesterday that the government would implement a full lockdown in the capital from tomorrow (Friday) as schools across the country are forced to close.
Peter Caplehorn, chief executive of the CPA said: "Shutting down all of construction through distancing restrictions would make little sense given that the construction industry is essential to ensure we get through this as a country and an economy."
He added that the association was regularly updating members on the potential market impact of covid-19 and was in communication with other bodies to formulate cross-industry responses to the crisis and to develop policy positions aimed at protecting the industry.
Francis added that, when the recovery finally comes, construction would be vital to it so the industry simply had to be sustained through the potential disruption.