Communities secretary Michael Gove to have final say on 90m-tall building
Mayor of London Sadiq Khan has rejected controversial plans to build a 21,500-capacity spherical music venue at Stratford.
The Sphere will be entertainment giant Madison Square Garden Company's first venue outside the US and had been approved last year by the London Legacy Development Corporation's (LLDC) planning decisions committee.
An LLDC planning report said more than 850 responses out of 1,364 had opposed the scheme with the report adding that "recurring themes in opposition are the lack of need for the development as well as its scale, massing and form".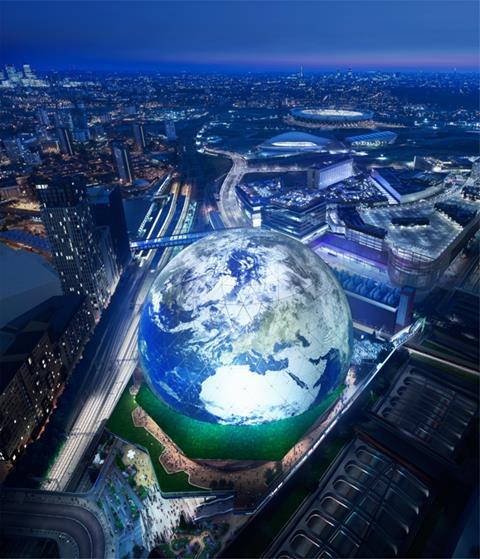 Because of its size, Khan was required to rule on the development and today said the scheme should not go ahead. The final decision will be made by communities secretary Michael Gove who earlier this year told the LLDC he wanted the definitive say.
Designed by Populous, the 90m-tall building will occupy a 1.9ha triangular site between railway lines next to the Westfield shopping centre and close to the London Stadium – the former Olympic stadium – now the home of West Ham United.
A smaller 1,500 capacity venue is also planned at the Sphere site along with restaurant and retail space. The scheme will include building new bridges over neighbouring railway lines.
The project team includes planning consultant DP9, M&E engineer Me, acoustic engineer Arup and cost consultant RLB.
Earlier this year, the LLDC voted to allow the display of advertising on the spherical facade of the venue, which will be entirely covered in giant triangular LED panels.
The advertising consent was a condition of the planning approval granted to the scheme last year.
In a statement, a Sphere Entertainment spokesperson said: "While we are disappointed in London's decision, there are many forward-thinking cities that are eager to bring this technology to their communities. We will concentrate on those."
MSG has signed a memorandum of understanding with South Korean city Hanam to build a Sphere on a 900,000 sq m site in the greater Seoul area.
AEG Europe, the owner of the O2 Arena, which Populous turned into an entertainment venue, and which has been a vocal opponent of the new project, said it welcomed Khan's decision.
"We do not oppose competition in the live entertainment industry, and specifically do not oppose another large music venue in London. However, this proposal had fundamental flaws from the beginning. It was the wrong design, in the wrong location, and this was the right call," a spokesperson said.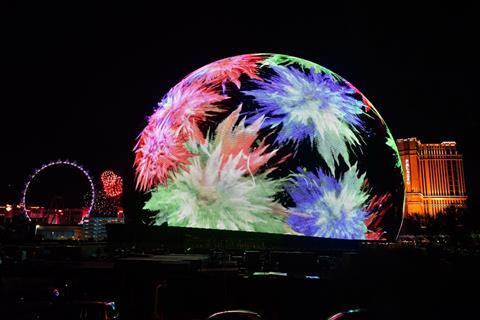 MSG has been building up its capacity over the past few years to start work on the Sphere with Ian Feast, former COO of the Battersea Power Station Development Company, joining last year to head up delivery.
But earlier this year Grant Findlay left MSG to return to Sir Robert McAlpine as executive managing director of a newly formed Buildings division while Mike O'Donnell, who left McAlpine in 2019 after more than a decade to join MSG, returned to the firm in the role of commercial managing director.
If the Sphere gets built, it is likely to be only let as a construction management scheme with Mace, McAlpine and McLaren all reportedly interested.
MSG's first Sphere scheme opened in Las Vegas at the end of September – two years late and costing nearly $1bn (£825m) more than its original budget.
Designed by Populous and project managed by RLB, Aecom was appointed general contractor to the job in summer 2019 but was removed the following year with MSG becoming general contractor after costs ballooned.