Mipim latest: London delegation reveals new map of capital with £100bn of projects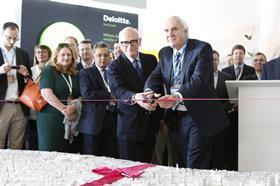 London delegation's at Mipim has unveiled a huge new model of the city to showcase £100bn of current and future development in the capital.
Sir Edward Lister opened the London stand at the annual property and trade show, which has included a 42.6m² model as its centrepiece attraction.
Built Pipers and commissioned by New London Architecture (NLA), the model, at a scale of 1:2000, shows new developments including the Shell Centre by Braeburn Estates, the cluster of proposed towers in Vauxhall and Battersea Power Station's £5bn scheme.
The new map also includes Old Oak Common, which is expected to be one of the prime new development sites in the capital in the next decade.
Projects worth approximately £40bn have already been built or financed, with £60bn to follow in the next 10-15 years. The new model also highlights huge infrastructure projects including Crossrail and the major upgrade of London Bridge Station currently under construction.
Lister said: "This is the largest and most detailed model ever made of London, representing more than £100 billion of current and future development and showcasing the capital's most important regeneration and infrastructure schemes including Old Oak Common and Crossrail.
"We are proud to use it at Mipim this year as a tool to attract vital investment to build the infrastructure, offices and homes necessary to continue to create jobs and support the capital's economic growth."
After Mipim the London model will be relocated to the New London Architecture galleries at The Building Centre in Store Street, and will open to the public in April