The government has agreed every local authority should have the chance to adopt the capital's space standards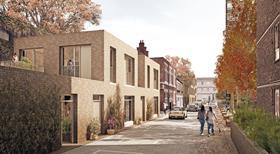 London's trailblazing space standards are to be extended to the rest of the country.
After months of behind-the-scenes lobbying, the government has agreed that every local authority should have the chance to adopt the capital's space standards.
The news emerged as the government published its delayed housing standards review which also covers the security, accessibility, adaptability and water efficiency of new homes.
At the same time it launched a two-month consultation on what communities minister Stephen Williams billed as "a radically simplified system" which has been drawn up with the close involvement of Levitt Bernstein's head of research, Julia Park.
PRP's Andy von Bradsky also advised on the process.
It will be the first time the UK has had nationwide space standards for all new housing regardless of tenure. The Parker Morris standards, abolished in 1980, were only for social housing.
The space standards will not be added to building regulations but local authorities will now have the option of adding them to their policies "where justified by need and subject to viability".
Developers will be able to argue on a case-by-case basis that they shouldn't apply to a particular development.
The DCMS consultation said: "The government does not consider there is a case for statutory regulation in this area. However, it does consider there is a need for a national standard to replace the many different existing space standards used by local authorities."
The standards on security, water and access are due to be adopted into building regulations next year, but only security will be mandatory.
Together the changes will end regional uncertainty and save councils and housebuilders £114 million a year while delivering high-quality housing, said Williams.
Park called it an "unprecedented opportunity".
"Quality is finally on the map. Government has opened the way for all new housing to be bigger, better, cheaper and simpler," she said.
Architects and housing charities had been concerned that London would be forced to accept watered-down space standards.
Alex Ely, who co-wrote London's 2010's space standards, said: "This is good news that the rest of the country is to be aligned to London.
"It's been demonstrated that the London design guides have proved worthwhile and have noticeably improved quality of housing and have been generally accepted by industry. If it works in London it seems a useful benchmark to apply elsewhere."
But Gavin Smart, director of policy and practice at the Chartered Institute of Housing (CIH), said the improved space standards should be compulsory.
"We currently build the smallest homes in Europe," he said. "We are concerned that the government's solution to set out voluntary standards for new build houses doesn't go far enough and we would look instead for these to become mandatory to make real progress."