Chairman of Rogers Stirk Harbour + Partners claims Conservative mayoral candidate unable to make decisions
Lord Richard Rogers has slammed Boris Johnson ahead of the London mayoral elections this Thursday, claiming the Conservative candidate was unable to make decisions.
The Labour peer was chief advisor on architecture and urbanism for former mayor of London Ken Livingstone before leaving the role just over a year after Johnson took over. In an exclusive interview with Building he said: "I really, really didn't get along with Boris. He couldn't, or wouldn't, make decisions. The very worst people to work with are those who do not, or cannot, make a decision."
The chairman of Rogers Stirk Harbour + Partners added that his vote was staunchly in favour of Livingstone: "Ken did that job better. He did, and could do, a much better job than Boris.
Boris couldn't, or wouldn't, make decisions. The very worst people to work with are those who do not, or cannot, make a decision

Lord Richard Rogers
"Ken got things done and that's what you want from a mayor - especially from the mayor of London. And Ken had so many great ideas. The Boris bike, in all reality, is the Ken bike. The idea, the planning, the work behind that scheme all came from Ken. I am convinced that Ken best meets the needs and requirements of Londoners."
Rogers sensationally stepped down from his role of architectural advisor to Boris Johnson in 2009. A Freedom of Information request at the time revealed a number of letters between the mayor and Rogers showing the breakdown of the relationship.
In December 2008, Rogers wrote: "To do this work, I will need the support of a dedicated team, a budget and true power to improve London's public spaces."
In September 2009 he wrote: "I am frustrated that for over a year you and your deputies have blocked me from realising the work that we discused at our first meeting and in numerous letters: to lead a team to deliver public spaces in London. As for you and I working closely together this, quite simply, has never happened."
Johnsons replied later that month with: "Whilst I am naturally disappointed by your design to resign, I do accept it. Your contribution to the improvement of design in London has been immense."
A spokesman for Boris Johnson's re-election campaign declined to comment at this stage.
Rogers Revealed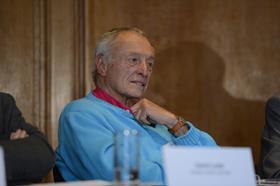 Coming up tomorrow - Rogers exclusive on the practice's first move into the Middle East, the future of tall buildings and how architecture is "bloody hard" in the current climate.
Plus a full interview on Friday on life, fame and family