Judge highlights Lord Sugar's role in helping theatre to bring sucessful case in long-running construction bond dispute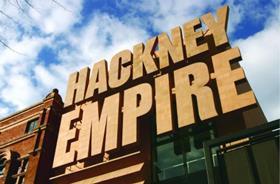 Hackney Empire has won back £1.6m following the successful conclusion of its long-running construction bond dispute with Aviva, with the judge highlighting the role Lord Sugar played in backing the East London theatre's litigation.
As Building reported in April, Hackney Empire won its 10-year construction bond dispute with Aviva, with the insurer required to pay the £1.1m surety bond at the centre of the dispute.
Now the judge on the case has awarded the theatre nine years of interest on the bond, amounting to £500,000, which, when including the payment of the surety bond in full brings the total awarded to £1.6m.
Hackney Empire's victory will come as a relief to the many contractors and clients that rely on bonds for security on projects.
The long-running case concerned Aviva's refusal to pay up when the Hackney Empire's contractor and project manager Sunley Turriff Construction (STC) went into administration in 2003 despite it having agreed a £1.1m bond with the contractor. STC was carrying out an £11m refurbishment on the Victorian theatre.
In the judgement this week, Justice Edwards-Stuart highlighted the role Lord Sugar played in backing Hackney Empire's litigation, which put the theatre in a position to issue the claim against Aviva.
Clarie Middleton, Hackney Empire chief executive, said: "The win against Aviva is of enormous significance to Hackney Empire and sets the seal on a new chapter in the organisation's history.
"It has allowed us to clear balance sheet debt that has been hanging over the company since 2004."
Solicitors CMS Cameron McKenna acted for the theatre on a no-win, no-fee basis and QC David Thomas on a partial conditional fee.
Middleton thanked them for their "determined handling of the case" and Lord Sugar "for his consistent generous support".
Solicitor Rupert Choat said: "This was a David-versus-Goliath battle but we had a giant of our own in the shape of Lord Sugar."
He said the case could only proceed because of no-win, no-fee, which new rules will prevent in future.
Aviva said it would not pursue any further appeals and confirmed it had already "settled the principal amount of this claim".