Firm working out how to avoid using public transport to get workers to London jobs
Mace is extending its site shutdown until next Tuesday at least.
The firm mothballed around 90 sites for two days earlier on in the week as pressure grew on main contractors to close jobs because of mounting worries about coronavirus following the prime minister's decision to lock down the country on Monday night.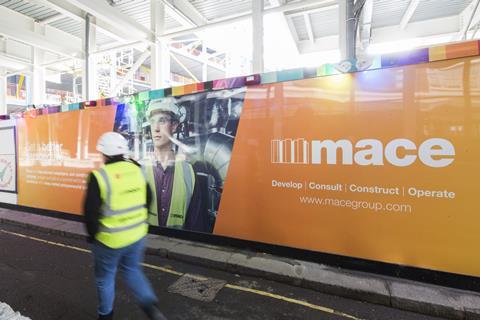 Most of Mace's jobs are in the capital and include work at Battersea Power Station, a £450m mixed-use towers scheme for Chinese developer R&F called Nine Elms Square and a £50m job for Stanhope at Gresham Street in the City.
Mace chief executive Mark Reynolds said sites would stay shut until 8am next Tuesday at the earliest as it tried to work out how to get workers to site – if they re-opened.
He said: "We have been clear we will not re-open sites unless we are certain we can do safely. During the 48-hour temporary suspension of operations across all of our construction projects in the UK, our teams have been carefully reviewing that guidance and the direction provided by UK government.
"We are still currently exploring measures that may allow us to operate a number of sites while adhering to the Construction Leadership Council's (CLC) Standard Operating Procedures. In particular, we are reviewing the impact on public transport networks in London and are considering what alternative travel arrangements can be introduced."
But Reynolds said no construction work, other than safety critical work or activities required to protect or secure construction projects, would take place until then.
Pictures of workers crammed onto Tube trains, queuing to get into sites and packing canteens prompted heightened concerns about whether workers were putting themselves at risk and were unwittingly spreading it.
On Monday night, Boris Johnson warned people will only be allowed outside to buy food or medication, exercise alone once a day, or to travel to work if absolutely necessary.
But less than 90 minutes later, Jenrick, the communities and housing secretary, tweeted that the advice for the construction industry was: "If you are working on site, you can continue to do so."
Mace's decision comes as the country's biggest builder, Balfour Beatty, said that its 300-plus sites in the country remain up and running.
A Balfour Beatty spokesperson said: "In line with the current guidance on covid-19 from the UK government, our sites and contracts will remain operational where we are able to appropriately implement the Standard Operating Procedures issued on 24 March by the CLC to ensure the continued health, safety and wellbeing of all those who work with and for us."
Kier and Willmott Dixon, both of whom have jobs mainly outside London, have also said their jobs remain open for business.
But the decision to keep sites open, especially those in London, has been questioned by one of the capital's key subcontractors.
In a statement, the founders of concrete and demolition firm Careys said they would not ask staff to do something they wouldn't do themselves.
They added: "To ask our people to continue using public transport, working on crowded sites and sharing welfare and canteen areas, was something we would not be willing to do ourselves. To expect others to do this would be in direct conflict of the values our business is built on.
"At Careys we will never ask our people to put their health, or that of their loved ones, at risk in the name of work."
Meanwhile, a rift has opened up between the CLC and Federation of Master Builders after the latter said its members cannot adhere to the social distancing guidance – which says people must be at least 2mn apart – and had begun limiting the work its member firms can carry out on sites.
But a CLC spokesperson said: "The construction industry has a critical role to play during this crisis, maintaining and building essential facilities and providing the necessary economic capacity to support the recovery that our country will so desperately need. Blanket limitations on all activity will not allow for essential works to take place and will damage our industry in the long term."
The CLC said it was preparing a schedule of essential activity that will have to be maintained while sites remain mothballed because of the outbreak.