Chief executive Mark Reynolds says turnover will dip 'quite a bit' this year
Mace has confirmed that it has broken the £2bn turnover barrier for the first time but reveals profit slipped during 2018.
In the year ended 31 December the firm turned over £2.35bn, an increase of 19% on its 2017 figure, while pre-tax profit came in at £32.8m – down 8% year-on-year, and resulting in a pre-tax margin of 1.4%.
In its annual report Mace also revealed chief finance officer Dennis Hone will retire at the end of the year.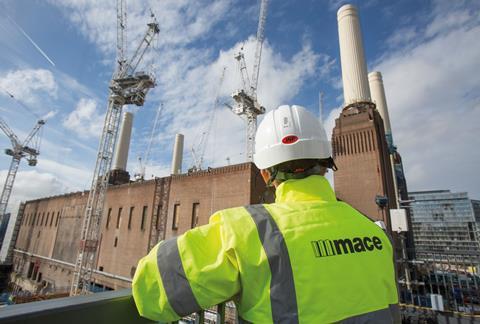 Mark Reynolds, chief executive of Mace, told Building it had been a "good year" despite "challenges on a couple of projects".
But he revealed that the group would see its revenue dip "quite a bit" below £2bn in 2019, having broken through the £2bn barrier for the first time last year.
Reynolds told Building: "There was a bit of a spike in our last year from our international business and datacentre contracts. It was a bumper year. This year [2019] will be less. There'll be a drop in turnover in London and the South East."
"Like many others, [if] you have a problem on a project and you have to write down profit it's the 1% of projects that hurt you. This year coming construction will do very well. I'm not worried about turnover, it's about profit. Our margin will go up significantly."
This year will be the last for current chief financial officer Hone, who joined the contractor in 2014. He was previously chief executive of the London Legacy Development Corporation, and before that as head of the Olympic Delivery Authority.
He is set to be replaced by Richard Bienfait, who was made chief executive of higher education developer University Parternships Programme in January this year. He was previously chief financial officer at the group.

Bienfait will join Mace in the likely aftermath of the UK's exit from the European Union, with Reynolds saying he was concerned by clients being more selective about work as a result.
"They're all more cautious with the Brexit effect. Brexit for us is a short-term hit in the first instance," he said. "The movement of goods is the biggest risk. It can hit you on projects, with higher prelims, and delays and potentially damages."
Reynolds also warned against over-borrowing in the contracting business. "It's all about cash balances and cash resilience. If you have to borrow money to fund your operational business then that's dangerous.
"Well-run companies don't have these sorts of problems. The example is Carillion. If you pay out more than you earn over a long period, then you're going to end up in a bad place."