Data institute features 1km long passive heating and cooling air corridors
Mace has completed its tenth major project for Oxford University, which has become the institution's first building to achieve an 'outstanding' BREEAM rating.
The Big Data Institute (BDI) is the second phase of the £115 million Li Ka Shing Centre, and sits alongside its sister building, The Target Delivery Institute, which was also delivered by Mace and was opened by former prime minister David Cameron in 2013.
The building features an energy-saving subterranean labyrinth for passive heating and cooling, which pulls outside air through three separate air corridors that are 1km long in total. By the time the air reaches the major roof plant, it has warmed or cooled by up to five degrees, reducing energy costs.
Other sustainable and environmental features boasted by the building include a CHP (combined heat and power) plant, PV panels, a sedum roof, a sustainable urban drainage system, and drainage attenuation. The features all contributed to the project achieving Oxford's first 'Outstanding' BREEAM rating, said Mace.
The BDI is the first centre in the UK for the analysis, integration and interrogation of large complex datasets for research into the causes and consequences, prevention and treatment of disease. The three storey purpose-built facility houses over 500 researchers specialising in high speed data computation. At its hub is a dedicated data centre that has enough computing power to perform 600 trillion computations per second.
The building contains a mix of cellular and open plan offices wrapped around a timber-clad atrium with a glass and steel feature staircase linking the floors.
The lower ground floor houses a café, seminar rooms and AV meeting suite as well as break-out space for researcher interaction.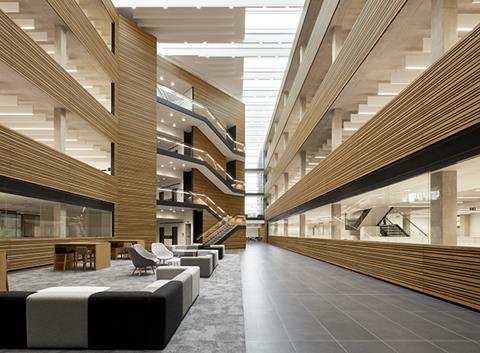 Terry Spraggett, Mace's director of public sector construction, said: "The opening of the Li Ka Shing Centre is a proud moment for all of us. Although building world-class research facilities like this is always going to be a challenge, you know you're delivering something that will have a real legacy for global health. It's also good for Britain, helping to make sure we're at the forefront of an international research agenda."