Chief executive Mark Reynolds says ongoing Brexit uncertainty 'making it very hard' for industry to plan properly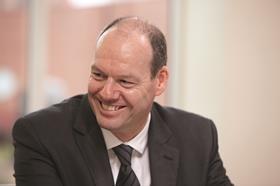 Mace is looking into applying for hundreds of visas for its EU staff in the event the UK crashes out of the EU without a deal over Brexit.
Concern that the country will end up leaving the bloc with no deal increased this week after prime minister Theresa May pulled a promised House of Commons vote on the agreement she rubber-stamped with EU leaders last month.
Yesterday, May was on a whistlestop tour of European capitals to try to save her deal, in particular seeking "further assurances" on the Northern Ireland border plan, to appease MPs.
But Mace chief executive Mark Reynolds (pictured) said the firm could not wait any longer to see whether the UK leaves next March with or without a deal and has told worried EU staff at the 6,000-strong business it will help them apply for visas so they can remain in the UK indefinitely.
Around one-third of the firm's directly employed staff are from the EU. Reynolds said: "Until there is complete clarity on the working visa arrangements post-Brexit it is not possible to judge the impact on our workforce, but it is likely that many of our employees will need to apply for permanent residence or working visas. Mace has confirmed it will support our staff through that process once it is clear what is required."
Reynolds, who has been a vocal critic of the government's Brexit plan, saying in the autumn it had not listened to industry concerns over access to labour, again admitted exasperation firms like his were still waiting to find out what sort of the Brexit the UK was facing with just over three months to go before the leaving date of 29 March.
He said: "The reality is that this uncertainty makes it very hard for the construction sector to properly plan for the medium-term future. Until we know what our relationship with the EU will look like after we leave, we are unable to put in place the appropriate contingency measures and advise our people properly."
The government has promised a vote on its Brexit plan before 21 January next year.