BCO conference: British Land director discusses massive south-east London scheme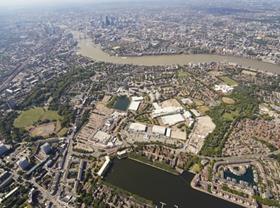 British Land's lead on the 46-acre redevelopment of Canada Water in south-east London, Roger Madelin, has said the client will adopt some strategies that proved successful for his former employer Argent at King's Cross.
Speaking to Building at the BCO conference in Amsterdam last week, Madelin said conceptual ideas for phase one of the huge Canada Water scheme are already on the table and it is likely to include a one million sq ft mixed-use building comprising office, retail and leisure space, as well as 1,000 new homes.
Madelin said British Land is likely to work with a small number of contractors on the scheme, as Argent has done at King's Cross, and British Land has already had conversations with contractors already working on some of its other schemes about the project.
He said: "Absolutely we will work with a limited number of people to try and give them the opportunity to invest in people and ideas and not make the same mistake twice."
Aecom has been working on the Canada Water project with British Land for a couple of years, while Allies and Morrison is designing the masterplan and Waterman has been doing environmental and structural studies.
Madelin said that currently they expect to submit the planning application early next year with a view to being on site in early 2018.
"We're trying to do a first phase that is significant and placemaking," Madelin said.
"The proposition is we could do a million sq ft of commercial which could be 50% office and 50% retail and leisure, or it could be 70:30, we don't mind really.
"Some of it is clearly going to have to be speculative, but how much of it we don't know yet," he added.
Discussing the different challenges between King's Cross and Canada Water, Madelin said that Kings Cross being in central London meant that it wasn't necessary to be that innovative, while Canada Water will require British Land to offer a great place.
"Kings Cross is central London with a big 'C' from an accessibility point of view. So provided the offices we built were half decent they would let and provided the public realm was half decent and the apartments we'd build were half decent they would sell. One would hope we did slightly better than half decent in all those regards, but once we were certain the transport was going to be completed at Kings Cross, I'm not saying it was easy, but [in terms of] what products we would produce we didn't have to be that innovative really.
"At Canada Water it's not central with a capital 'C', but it's still central and its well-located and it hasn't got the million sq ft of heritage to work around and create that placemaking heart and also the world has changed where people want better value and more flexibility, so we have got to offer a great place, a great product, great value and flexibility, which is why we're looking at conceptually a big mixed use building as well as some probably relatively normal in a London context buildings as well.
"I do think some big, adaptable, simple, cost effective, elegant buildings are what we need to do," he added.
A section of the vast Canada Water site, which was formerly the Daily Mail printworks, has St Paul's viewing corridors to contend with and so is restricted to about eight storeys. But there will be several tall buildings in the scheme in other areas of the site, Madelin said.
He added that he was enjoying being at British Land, having joined in February, and that it "seems to be a very modest company that's done a huge amount very well".