Survey finds subcontractors rarely paid within 30 days on government jobs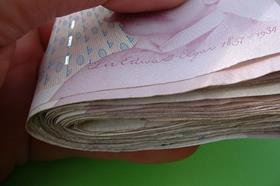 Main contractors are failing to consistently pay subcontractors within 30 days on government contracts despite having agreed to do so, a survey reveals.
The survey by the Electrical Contractors Association found that over half of subcontractors received their payment within 30 days of invoice less than 20%of the time.
This is despite central government contracts stipulating that subcontractors should be paid within 30 days all the way down the supply chain.
The survey of 230 firms also found that 83% of subcontractors felt their payment terms should the same as the main contractor received from their public sector client.
Steve Bratt, ECA Group chief executive said the problem threatened the "future of the industry and economic growth".
He said: "At worst, late payment kills; at best, it severely hampers growth."
Bratt added: "I am hearing from members who have hit a glass ceiling; they could grow and invest in new technologies and staff, but as a result of the risk of late or non-payment have made a strategic decision not to. If businesses can't grow, it's not only bad for our industry but bad for Britain's economy."
The survey found that on private sector jobs 59% of subcontractors were on payment terms of between 30 and 60 days.
Plus, 53% reported there had been change to their terms over the past year.