Consultant files last set of accounts as independent company
Turner & Townsend defied the impact of lockdowns and increased margins by one third last year, the firm said in its last set of accounts filed as an independent company.
US firm CBRE completed its £960m deal to take a 60% stake in the business last November after going public with the offer in July.
T&T's accounts for the 12 months to April 2021, filed earlier this week, were signed off by chief executive Vince Clancy on 16 July last year – 11 days before CBRE announced the deal on the New York stock exchange.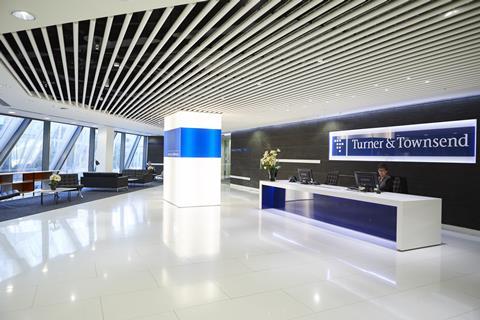 As a result, no mention of the deal is made in the accounts but they lay bare why the US property giant was willing to shell out nearly £1bn for a majority stake in the business which was set up in 1946.
Pre-tax margins jumped from 11.6% the year before to 15.5%, a rise of 34%, with the firm's pre-tax profit rising 30% to £113m. Operating profit was up by a similar amount to £113m as well.
Revenue was off by just 2% during the period, slipping to £727m because of falling work in the aviation market, with air travel continuing to be hit by the pandemic, and the oil and gas sector which has been blunted by governments around the world implementing carbon reduction programmes. T&T said stripping out these two sectors would have seen revenue increase 7.6% during the year.
Clancy, who has been with the business since 1989, had previously likened the covid-19 crisis to the scale of disruption caused by the global financial crash more than a decade ago, adding that no part of the business, which employs around 6,800 people across 112 offices working in 45 countries, had been untouched by it.
Revenue in the UK and Americas, which account for more than half of the firm's £727m turnover, slipped 3% and 11% respectively to a combined £461.5m, from £488.5m last time. But income from other regions grew during the period including Europe, up 19% to £64m, and Australia which rose 9% to £83.5m.
T&T said its highest-paid director was paid a salary £507,000 – down from £587,000 the year before.
On the day the CBRE deal was announced, Clancy confirmed to Building that the £960m it has paid will be split between the firm's 106 partners.
It is understood partners have been given some cash upfront but the bulk of the payouts will only be made in 2024 in order to head off an exodus of key staff.
In its latest accounts, T&T said the firm had no bank debt with net assets rising from £167m to £209m.