Allies & Morrison's controversial scheme clears final hurdle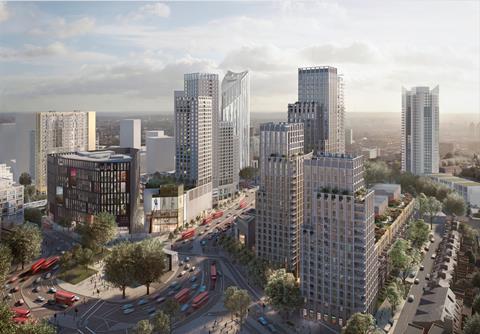 Sadiq Khan has approved the wholesale redevelopment of the Elephant & Castle shopping centre and the London College of Communications site.
The two buildings are significant landmarks on the south London roundabout which will now make way for towers of up to 35 storeys and a new shopping centre designed by Allies & Morrison.
The scheme, on two sites totalling 3.6ha, will include 979 homes, a new college building for the University of the Arts London, leisure and office space and a new station.
The Delancey proposal has been opposed with a vociferous campaign by the local community and other protestors who claim the project will force out independent traders as well as residents and users of the popular bingo hall.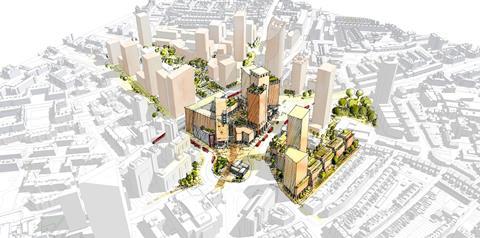 After the mayor approved it tonight, City Hall released a statement saying: "This development will include nearly 1,000 new homes for rent – of which 35% will be at social rent or other genuinely affordable levels – as well as community space, leisure facilities, offices, an enhanced college campus, and improvements to the nearby Underground station.
"By working with the developer and the council, City Hall have secured an unprecedented level of support for traders affected, with their rents now capped below market rates for 15 years, and have got the level of rents in the affordable homes down even further.
"City Hall have used the planning powers available to their fullest extent to make sure these plans represent a good deal for the local area, and having considered all the evidence available, have decided to approve this application."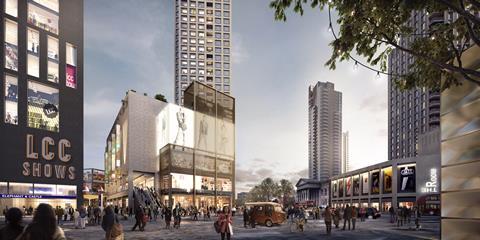 The project had already been approved by Southwark council in July – by a single vote after an earlier meeting had signalled its intent to turn it down.
At the start of the year GLA officers said they strongly supported it in "strategic planning terms" because of its "rich mix" of uses and "generally very well considered" design, but that it was not at that stage compliant with the London Plan. Since then the architects have addressed these concerns which included windowless sections of the shopping centre façade, while the GLA has independently reviewed the viability of the build-to-rent element in order to verify the maximum reasonable amount of affordable housing.
Last month another hurdle fell away when Historic England issued two five-year immunity-from-listing certificates covering the 1960s shopping centre, the 16-storey Hannibal House office building above it and the neighbouring Coronet Theatre.
There had been concerns that the development would damage the setting of other listed structures including Goldfinger's Metro Central Heights, the Tabernacle church, the Faraday memorial and the Imperial War Museum.