Existence of McAlpine-owned zoo in Buckinghamshire emerges after appeal made for pair of escaped coatis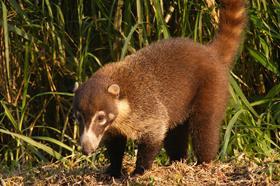 Former Sir Robert McAlpine director Sir William McAlpine owns a 200 acre private zoo in Buckinghamshire, it has emerged.
McAlpine and his wife, Judy, set up the menagerie at their estate in Fawley to house around 400 animals which would otherwise have been put down, according to yesterday's Sunday Times.
The existence of the private zoo, which now boasts 20 species including emus, tapirs, capybara, lemurs and meerkats, emerged last week after the McAlpines made an appeal for two missing coaties.
The two creatures, members of the racoon family, escaped and apprached ramblers in nearby woodland in February with one of the animals later being found dead by a roadside in Maidenhead after the appeal was made, the newspaper reported.
Lady McAlpine said: "We only realised they were missing when the police told us. When I was told [one of the coatis] was dead I was really very sad because he was so friendly."
The zoo began in 1990 when McAlpine, 76, offered his empty deer enclosure as a home for 12 unwanted male wallabies from London Zoo.
"Two of them escaped and turned up outside the Catherine Wheel pub in Henley at closing time," he told the paper. "They did more for the temperance movement than anything before or since."