But firm says jobs only starting up again with 'limited capacity'
Sir Robert McAlpine has begun reopening some sites that were shut following the prime minister's decision to put the country into lockdown more than four weeks ago.
Two days after Boris Johnson's announcement, McAlpine, whose jobs include the Channel 4 headquarters in Leeds and a headquarters building for Deutsche Bank in the City of London, said it was closing most of its sites to all but essential safety and security employees.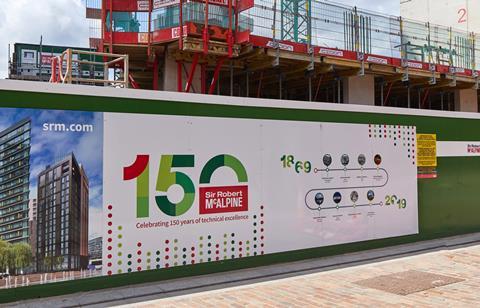 But the firm is following others including Mace and Multiplex by opening up a limited amount of sites – albeit with a reduced number of workers.
The firm told Building: "We have recommenced some works on a number of sites in a very limited capacity."
It added: "We will not put people at risk. Where we can work safely, we are. This is in a limited capacity and only where absolutely safe to do so in accordance with all safety and health guidance, including from the Construction Leadership Council. Many of our projects have continued to carry out essential off-site and pre-construction works, ensuring we are best prepared for a full return to work at the appropriate time."
McAlpine, which earlier this month furloughed around half its 2,000 staff and cut the pay of the remainder, said the number of people working on reopened sites was being determined by the size of welfare facilities on its projects. "[These] have been adapted to ensure compliance with social distancing," it added.
The firm said its work offsite was continuing.
McAlpine has been working on a number of temporary coronavirus hospitals including one in Manchester and several across North Wales.