Mipim latest: Taberner House scheme set to be the first for Council's in-house development company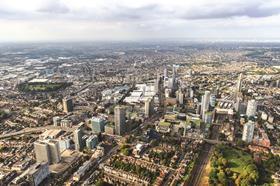 Contractor McLaren is being lined up for a £150m scheme to redevelop Croydon council's old headquarters into a 420-home residential scheme, Building understands.
The contractor is close to being appointed on the Make-designed Taberner House scheme, which is being developed by Essential Living and a new in-house development company being set up by Croydon council.
Speaking to Building at the Mipim conference in Cannes this week, Croydon council's development director Colm Lacey revealed Croydon council has taken over ownership of the 190-home private sale and affordable homes portion of the Taberner House scheme from Places for People.
Essential Living is the provider for the 230-home private rented sector tower portion of the scheme, while Croydon's local asset backed vehicle Ccurv – which was previously overseeing the scheme – has taken on a development manager role on the overall project.
The Taberner House scheme is currently in for revised planning permission, with approval expected in May.
Lacey said the £70m Taberner House private sale phase was one of two schemes the council's development company is gearing up to initially develop, worth £370m between them.
The formation of the development company is due to be formally approved by the council's cabinet on Monday.
The second scheme earmarked for the development company is the £300m College Green mixed-use regeneration of a site opposite East Croydon station, which will incorporate between 400 to 800 homes and the revamp of Croydon's 1960s-built Farfield Halls arts and concert venue.
Commenting on the development company's planned approach, Lacey said: "It will focus less on density and towers and more on a culture-led approach. I'm keen that it focuses on a placemaking approach, to develop high quality, interesting places where people want to go."
Croydon council is also setting up a £300m revolving investment fund to help "fund our own developments as well as other developments", Lacey said.
The Croydon council schemes are part of the wider £5bn regeneration of Croydon town centre (pictured), including Hammerson and Westfield's planned £1bn redevelopment of the Whitgift shopping centre and Stanhope and Schroder's £500m Ruskin Square mixed-use scheme.
A spokesperson for Places for People confirmed the organisation had "stepped back" from its role on the scheme when the council decided to take direct control of it. He said: "We are fully supportive of Croydon's ambitions for growth and are progressing with our JV with the Schroder UK Property Fund to deliver the first phase of residential at Ruskin Square [in East Croydon]."
McLaren declined to comment.