Hospital swapping timber with terracotta product
The trust behind the Midlands hospital left half-built when Carillion collapsed three years ago has been forced to change the cladding after it failed fire safety checks.
Balfour Beatty has since been drafted onto the job and Sandwell and West Birmingham NHS Trust said it is now looking to install terracotta cladding after timber systems did not pass tests.
Rachel Barlow, director of system transformation at the trust, told Building: "The cladding that has been installed, or planned to be replaced, to the façade of the hospital has undergone additional fire safety testing in line with the relevant regulations.
"Due to the outcome of these tests, new material will be installed that ensures compliance with the latest regulations. The new treatments include a mix of aluminium and terracotta."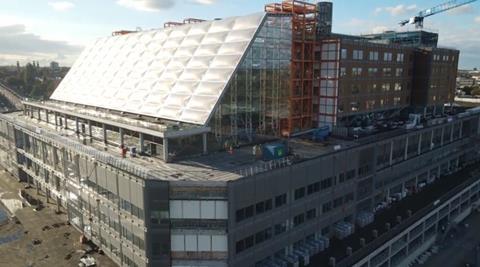 In recent board papers flagging the issue, the trust said: "Verbal confirmation had initially been provided for the Larch product but very unusually this result had been later reported as a failed fire test. There was a back-up terracotta product which had passed the fire test.
"[The] failed test related to the vertical Thermowood and the horizontal Larch. It had been intended to replace these with an aluminium lookalike but this was no longer possible because of the test failure."
The cladding that failed was due to be installed on the ward block on levels six to nine of the nine-storey building.
The grey terracotta and vertical grey cladding planned for the levels up to the fifth floor of the building has passed fire safety checks.
The trust said while the terracotta would be more expensive than the original timber cladding, it would drastically reduce maintenance costs in the long run, adding it would have cost around £100,000 to strip and restain the Larch cladding every three years.
The report also revealed that the internal wards were currently clad in Thermowood, which would now be replaced with terracotta.
It said the costs would be paid out of a contingency fund after it failed to make successful insurance claims in relation to the cladding failures.
Meanwhile, the trust repeated its hope the hospital will be ready ahead of next year's Commonwealth Games, which are being held in the city and are due to start next summer. It said the construction programme had been unaffected by covid-19 in December.
But it warned some aspects of the hospital were running over budget including the surgical ambulatory care unit fit-out which it said Balfour Beatty had priced at £900,000 more than the original figure of £450,000.
The Midland Met, which Carillion was appointed to build in 2015, was originally meant to open in October 2018.