Devastating blaze at police firearms training centre in Portishead began more than a week ago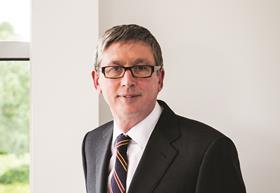 A devastating construction site fire which has burned for more than a week was exacerbated by specialised rubber materials used in the project.
Avon Fire & Rescue Service said yesterday that it is still tackling pockets of fire known as 'hotspots' at the £16m police firearms training centre being built by Miller Construction at Black Rock Quarry in Portishead, Somerset.
The blaze began early last Tuesday (27 August).
The project features rubber walls to prevent ricocheting bullets and a spokesperson for the service said this material "contributed to the challenge of putting the fire out" adding that examining this would form part of the investigation into the causes of the fire.
The spokesperson said: "There have been collapses of the ceiling. The roof has come down and there are pockets of fire underneath those concrete levels. There are several levels of combustible materials that we cannot get access to."
However, he added that fire fighters do expect to fully extinguish the fire shortly. Miller Construction is then expected to assist with lifting the collapsed roof before investigations get underway.
The contractor's chief executive Chris Webster said: "We are saddened to see the impact of the fire and for our team that has worked so hard to deliver this new state-of-the-art training centre.
"Our team remains focussed on supporting the fire services to fully extinguish the fire which has been challenging due to the unique nature of the building with its large concrete structure and specialised rubber materials used to line the firing range.
"The damage is extensive and we will work closely with fire investigators to determine what caused the fire before we can assess the overall impact on the delivery of this project."
The project, which was targeting a BREEAM Excellent rating, was topped out in May and had been due for completion in early 2014.
Other firms working on it include architects Haverstock Associates and Ryder Architecture and engineer URS Structures.