Energy minister Greg Barker says there is no chance project could get permission in this parliament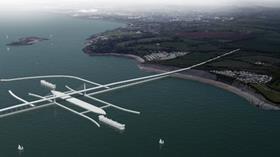 Energy minister Greg Barker has said there is no chance of the Severn Barrage project getting the green light before the next election.
Developer Hafren Power, the firm planning to build the £25bn barrage, has previously claimed it could get a Hybrid Bill to authorise the scheme passed within the next two years.
Appearing before the energy and climate change committee today, Barker was asked if he thought that was viable and said: "Not at all."
He added that even if the scheme was to apply through the usual planning process as a project of strategic national importance this would usually require the backing of a National Planning Policy Statement, which would take between 18 months and two years to agree.
Barker was critical of the level of detail Hafren Power had provided on the scheme.
Waving a thin file of paper in the air, which he said was the firm's executive summary of the plans, he added: "It's not exactly a warehouse full of data."
Barker said: "The information the [energy] department has seen so far does not allow us to assess if the proposal is credible or if it would achieve the benefits Hafren Power claims it would achieve."
Barker said Hafren Power needed to demonstrate the scheme would mitigate environmental impacts, reduce negative economic impact to surrounding businesses, such as the Bristol deep water port, and provide good value for money for electricity consumers.
Committee member Labour MP John Robertson said the lack of information provided by the firm was "embarrassing".
Conservative chair of the committee Tim Yeo added that the firm needed to be more open about its plans if it was to win public support. "There isn't exactly a great queue of people producing scheme to build a Severn barrage in the estuary who are going to be looking at the figures and stealing the intellectual property," he added.
A Hafren Power spokesperson said: "We are pleased to see the Department of Energy and Climate Change is keeping an open mind on the project, but disappointed at the criticism of lack of detail when it has, for example, a 150 page business case from us.
"However, we'll keep working with the Government to supply answers and secure support to proceed."