Chief executive Andrew Davies rebuilding top team after moving for senior figures from O'Rourke and Wates
Analysts have said chief executive Andrew Davies's rebuilding of Kier's top team is set to continue after last week's news it had lured Laing O'Rourke's building boss to head up its construction business.
The arrival of Liam Cummins followed the appointment of a new group commercial director over the summer with Kier poaching Stuart Togwell, the highly-regarded former group commercial director at Wates.
Davies made Togwell, who arrived with little fanfare, one of his first recruits and a former colleague said: "As a commercial brain, Stuart is brilliant. Governance, risk management – he's brilliant."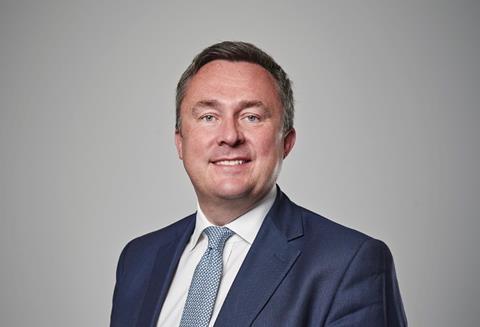 Togwell had been at Wates, where Davies was for nearly four years before leaving to take up the chief executive's role at Carillion, for more than three decades.
Last week Kier announced that Davies had persuaded Cummins (pictured) to leave the firm after 15 years and become its new group managing director of construction to replace the retiring Peter Young.
One source said: "They've gone and got a big hitter operationally, if they can steady the ship they've got the bones of a good construction business there."
Howard Seymour, analyst at Numis, said: "Liam Cummins is an extremely good man and a great hire in my view. I think management is working hard at restoring the fortunes of the business."
And Cenkos analyst Kevin Cammack added that he expected Davies to bring in more new faces: "If you join a failing company, one of the first things you do is build your own team around you. The FD [Bev Dew] went pretty quickly. I don't suppose [Davies] will stop there."
One rival contractor said: "Kier definitely need two or three big hitters who are positively rated so [these appointments] are a start. Davies is a smart guy. Maybe [Cummins] needed a new lease of life. Davies is a very polished individual and maybe [Cummins] can hang onto his coattails and become a bigger player."
Davies has begun a restructuring initiative to reduce its crippling debt pile and turn the business around which will see 1,200 jobs go by next summer and the firm sell off its housing arm.
Seymour said: "Kier is not a broken business operationally – it retains a high number of quality businesses.
"I think recent speculation and comments relating to potential sale of debt and prompt payment code infringement have been given more prominence than they should as they reflect the historic position or may not be an accurate assessment of current position."
Kier, which crashed to a £245m pre-tax loss in the year to June, is hoping to get a deal in place for its Kier Living residential arm by the end of its half year which finishes in December.