Alinea predicts contractors could be bought by opportunistic buyers as uncertainty abounds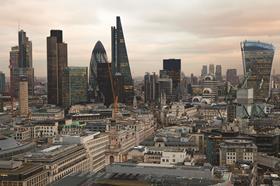 The expected industry slowdown following the Brexit vote could result in more opportunistic takeovers of construction firms, consultant Alinea has predicted.
In its latest tender price report, the London-based cost consultant said further consolidation in the industry is a "real possibility" as the sector is still "not in a financially healthy place" six years on from the financial crisis.
Alinea suggested contractors could prove a particularly attractive target for opportunistic buyers. It said: "The fragility of contractors' balance sheets is not to be underestimated."
Alinea said Brexit uncertainty among businesses was turning into "anxiety" over the type of exit the country faces from the European Union and how long it will take, particularly after the government lost the High Court case last week on consulting parliament about triggering Article 50 - which will formally start the UK's withdrawal from the EU.
Political and economic uncertainty overseas, especially from the likely impact of this week's presidential election in the US and ones due in Europe next year, is also likely to exacerbate market jitters, the report said.
The firm predicted two possible scenarios for UK tender price changes during the next three years. According to its most "prudent" forecast, it expects tender prices to increase 2% each year over the next three years.
In its "downside" forecast – which it believes to be more unlikely – it predicts a 3% drop in tender prices next year, followed by a 4% fall in 2018 and no change in 2019.
Alinea warned the slide in sterling has contributed to a "sharp" acceleration in cost inflation on some projects and that domestic suppliers had already started to pass on the higher costs of imported materials.
This view is supported by the Construction Products Association's (CPA) latest trade survey, published on Monday, which found two-thirds of contractors have been affected by cost inflation as the drop in the value of the pound hits import prices.
In the survey, covering the third quarter of this year, the CPA found that overall costs increased for 66% of main contractors and 59% of civil engineering contractors.
However, the survey also reported a 14th consecutive quarter of output growth, with firms across all areas of construction reporting an increase in activity.