Firm says order book is £3.6bn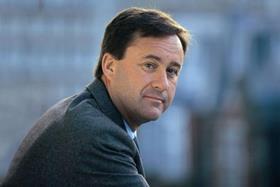 Morgan Sindall has kicked off this year's contractors' reporting season with a return to profit after racking up a £15m pre-tax loss in 2015.
The firm returned to the black last year with the business putting behind it a series of problem contracts to post pre-tax profits of £44m in the 12 months to December 2016.
Last year the firm settled the second of two hugely expensive problem Ministry of Defence contracts at the Faslane naval base in Scotland.
These contracts – to build a floating jetty and neighbouring living accommodation at the nuclear submarine base – had come with Morgan Sindall's deal to snap up Amec's construction and civils arm nine years ago but hit heavy losses that had plagued the firm.
Group revenue rose 7% to £2.5bn in 2016 with the outlook looking better in the year ahead as the order book jumped nearly a third to £3.6bn.
Chief executive John Morgan (pictured) said the firm was looking at focusing on demand for affordable housing, urban regeneration and infrastructure investment.
He added: "The UK is struggling to cope with the increasing demand for affordable housing and there is a clear need for Government to deliver urban regeneration and infrastructure investment to support future economic growth."
Its construction and infrastructure business accounts for more than half of group revenue – £1.32bn – with Morgan becoming the latest contracting chief executive to say that he is unhappy with the margins being delivered and wants to see this improve.
Last month ISG chief Paul Cossell said margins of 5% were attainable over the long run while earlier this week Galliford Try boss Peter Truscott said he wants its construction business to be making a margin of 2% by 2021.
Morgan Sindall's construction and infrastructure business posted a 0.7% margin last year but Morgan said he has set construction a 2% target over the medium-term and infrastructure a target of 2.5%.
The firm added: "2017 is expected to show further margin growth progression towards these targets and the nature and quality of work in the secured order book provides the platform to deliver this."
Partnership Housing operating profit rose 40% to £13.4m. Morgan said the business had seen a sizeable increase in its dialogue with local authorities and housing associations on opportunities for future land and development partnerships.
The firm, which also announced that former head of the British Property federation Liz Peace is stepping down as a non-executive director this May, said its fit-out arm, which operates under the Overbury brand, ended the year with a record order book of £446m. It made a profit of £27.5m on turnover of £634m.