Outgoing construction adviser says just 11 calls made to line set up to highlight abuses by main contractors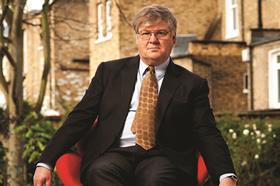 Only 11 complaints have been made to a government-instituted "mystery shopper" hotline designed to expose abuses of procurement and payment in government supply chains, outgoing chief construction adviser Paul Morrell has revealed.
Morrell called on specialist contractors who complain about abuses from main contractors on government contracts, such as late payment, to come forward with evidence of the practice if it genuinely is a major problem.
Morrell said that while he had sympathy with specialists struggling to get paid, there was nothing more the government could do if subcontractors refused to put their head above the parapet and identify specific instances of abuse.
He said: "We put the mystery shopper out there, [to follow up complaints of abuse of members of the supply chain] - and my concern was that it would get overwhelmed.
"In the year since we announced it there have been about 11 referrals, [and of those] a tiny number - one or two - on payments. And what I get told [by subcontractors] is "you can't expect us to raise our head above the parapet.""
Morrell said of 11 calls to the mystery shopper line, just seven warranted following up seriously, and of those it was ultimately decided that in four complaints there was no case to answer.
His comments follow a letter written by 12 trade federations representing more than 24,000 companies to the Department of Business Innovation and Skills (BIS) urging it to dump contractors with a history of poor payment to their supply chains. It said that public sector clients are failing to ensure prompt payment to all firms working on public sector jobs.
However, since Morrell's appointment the government has mandated payment within 30 days to tier three of the supply chain, and hugely expanded the use of Project Bank Accounts, which protect suppliers' payment, on government schemes.
Morrell said: "It's hard to see how much more government could have done itself about this. I think they [subcontractors] too often cast themselves as victims - to a degree I understand that – [but] they are nonetheless reluctant to stand up for themselves. They do need to say who and where."
Morrell also said that, if payment was a big problem, subcontractors should reward public sector clients that pay on time with cheaper rates, but that so far specialists had refused to do this.
Suzannah Nichol, chief executive of the National Specialist Contractors Council (NSCC), said her trade federation is already working with the incoming construction adviser Peter Hansford to address the issues of specialists failing to report problems.
She agreed with Morrell that specialists needed to do more. "[The NSCC] has demonstrated government is listening with the success on our fair payment campaign – the message to put out there is if you want to see a change then you need to be prepared to report the detail of the problems."
David Harper, technical director at specialist contractor Sharpfibre, said his firm had experienced issues with late or non-payment from main contractors but he didn't know the mystery shopper line existed and questioned whether the government had done enough to raise awareness. He added: "I think people find it very difficult to moan about their customers. But we'd consider using it."
This is the second part of a three-part interview with Morrell to mark his retirement from the job of chief construction adviser. Tomorrow he talks about the impact of government sustainability policy on the industry